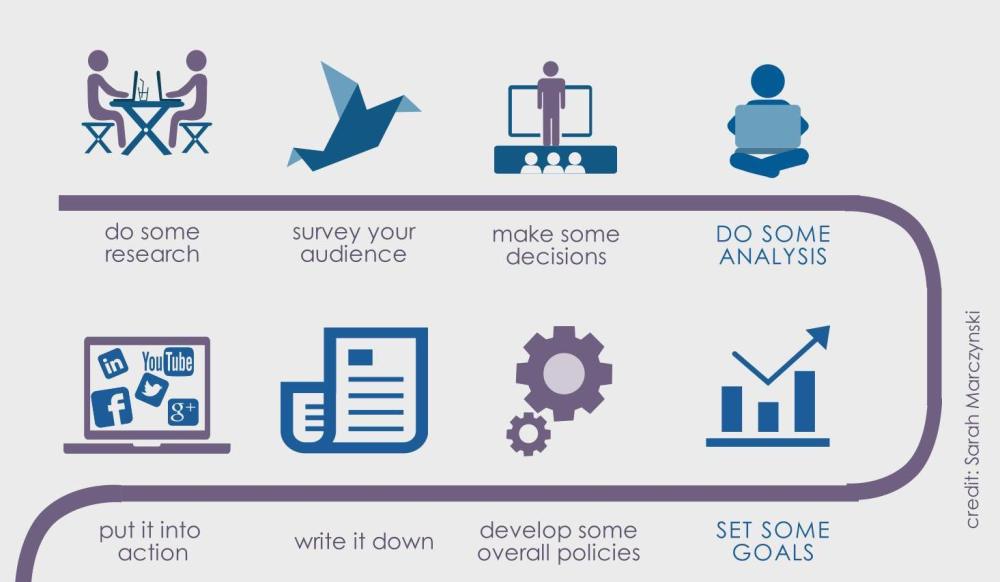 Having a plan lets you look at your social interaction comprehensively and see how it fits into other engagement and marketing goals.  Plus, it makes it really easy when the social media handler gets sick and the box office has to use that Twitter thing until they're back.
Do some analysis on your current profiles.
If you've decided to stay on Facebook or Twitter or Google+, great.  Let's look at how you're doing on there.
There are multiple ways to measure your success on these platforms.  Think about using:
How many followers/likes/subscribers do you have?
What is the average reach/number of views?
How many people comment/share/retweet/click-through?
Facebook, Twitter, and YouTube have easy ways to see some of these numbers. Reach and views are usually right by the content, likes/retweets/comments actually right on the content.  But for some more in-depth info, all they have great analytics.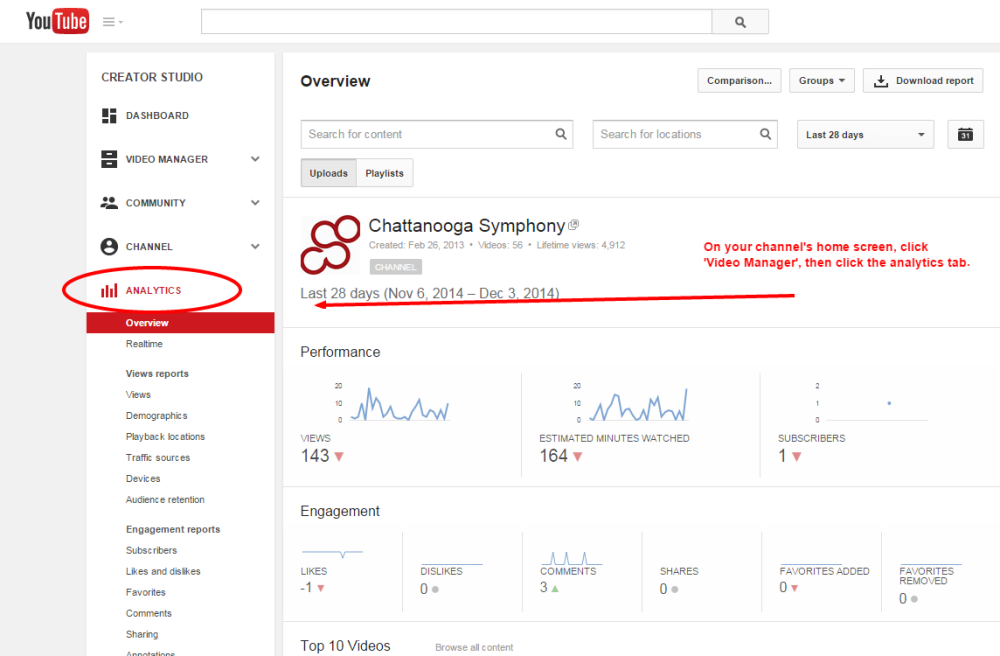 If you're in a city like we are in Chattanooga, it's hard not to measure yourself against other local arts groups.  The community theatre has 1 billion followers?? They get retweeted all day long?? Don't do it.  In this case, your audience is not their audience. Maybe they have more resources or have been at it longer than you have.  There are a million reasons that these numbers differ, so don't judge based on someone else's numbers.
Once you've got an idea of where you are, let's create some goals.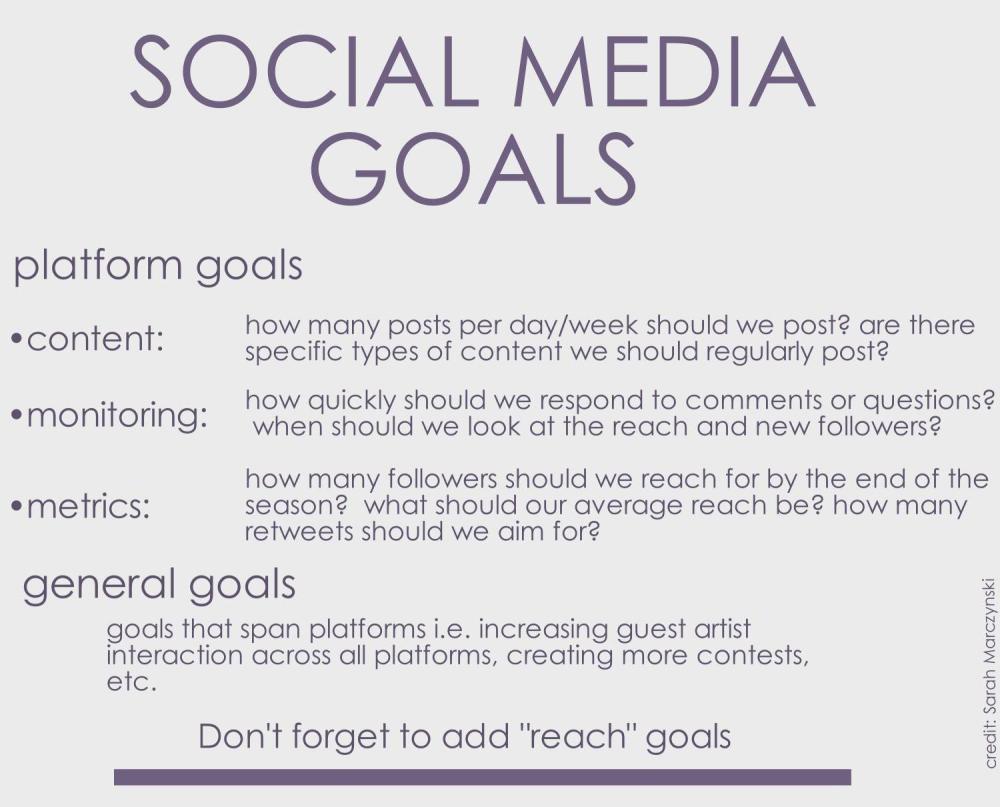 Platform goals
I separate goals for each platform into 3 categories with sub goals:
Content: How many posts per day/week should we post? Are there specific types of content we should regularly post?
Monitoring: How quickly should we respond to comments or questions? When should we look at the reach and new followers?
Metrics: How many followers should we reach for by the end of the season? What should our average reach be? How many retweets should we aim for?
So, for example, my goals for our Facebook page this season look like this:
Facebook

June 2014 followers: 2,321; about 200 reached every day
Content
1 to 3 posts each day of varied subject matter
Create event for each event before start of season
Goal of 50 shown as attending each event
Ask questions and post statuses that encourage interaction
Continue posting pictures to timeline, misc album, and Ed/Eng album
Monitoring
Monitor daily with goal of responding to comments within 6 hours, excluding after 5pm and on weekends
Metrics
Increase likes to 3,000 (3% increase)Increase average number reached to 300
Your goals will be different than ours depending on the staff time you can devote to it, what your current following is, what you are currently doing, etc.
Think about adding in a reach goal too; a really high goal that will take some work and a bit of luck to achieve.  We've never used Facebook events before, so a goal of 50 people shown attending is pretty high for us, but we're working at it.
General social media goals
This is where goals that span platforms go.  For example, we wanted to increase interaction with our guest artists, so one goal is to include guest artist handles in profiles in pre-concert/post-concert online discussion about the concert.  We wanted to increase the number of contests we did online, so BAM! Contests goal created.