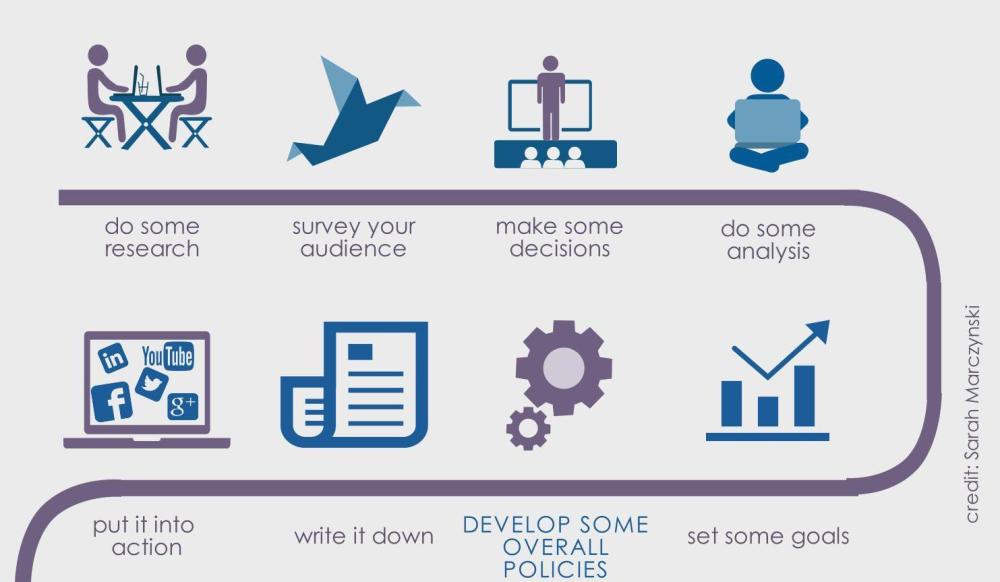 A social media policy is an organization standpoint on how you will use social media in your work.  It has guiding principles so that anyone who takes over the social media management can see why you do what you do where you do it.  It also puts everyone on the same page and standardizes some of your practices.
There are plenty of templates and articles online:
Policies should be easy to read, short but contain all the necessary information, and easily publishable both on paper and online.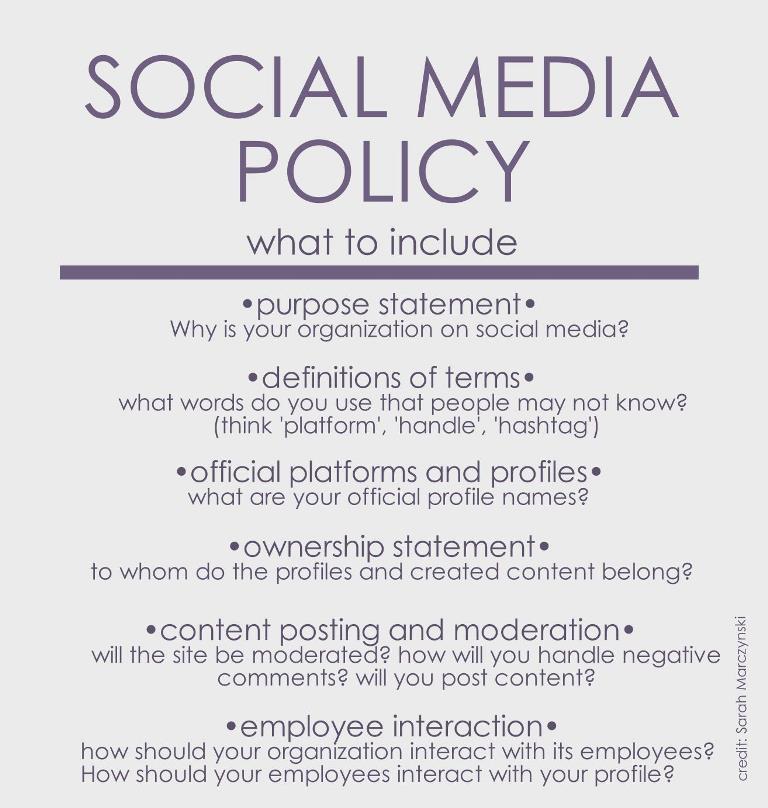 What should be in your policy?
A purpose statement: Why is your organization on social media? What is its purpose to your organization?
Definitions of social media terms as used throughout the document: Keep in mind that this may be read by other staff, board members, or the general public who are not as well versed and have no idea what a social media 'handle' is. Defining those terms puts the same definition into everyone's head.
Official platforms and profile names: Including official handles or profile names makes clear that those are the official accounts of your organization.
Ownership statement: Make clear that the account and profile belong to the organization.  Also clarify what content belongs to the organization.

Something like "the organization, not the employee, owns the accounts and content created specifically for the account. Content created by other users is their property unless permission is granted and proper attribution should be given" will work

Content posting and moderation-Will the site be monitored by your organization? Will the organization create content or will it be crowdsourced? How will you handle negative, inflammatory, disrespectful, or threatening comments?
Employee interaction – how should your organization interact with its employees? How should the employees interact online with your organization's profiles?  Make sure to include statements about how they should treat confidential or proprietary information on social media.
As more people including your staff, your artists and musicians, and your audience, take to social media it's important to clarify your organization's stance toward social media and how you as an organization intend to use it.  Social media is about relationship and interactions; a social media policy lets people interacting with you know where you stand and why you're standing there.
To see the Chattanoooga Symphony & Opera's social media policy, click here.