If you use Chrome, you've likely seen the recent update adding a ring around the favicon in inactive open tabs. Unfortunately, this alteration renders the icon unreadable, defeating the purpose of having icons in tabs. This frustration escalates for Chrome users who habitually keep several dozen tabs open simultaneously.
The good news is there's a way to deactivate it and it's a very straightforward process.
Here's how tabs look with the new default inactive ring applied (annoying, right?!?):

Disabling The Treatment
Enter the following into your Chrome browser bar:
chrome://flags/#memory-saver-discarded-tab-treatment
This will load the experimental features options. Don't be alarmed by the big red warning at the top of that screen. Granted, you should not edit any other setting on this page other than the one we're working with today unless you know what you're doing (you've been warned).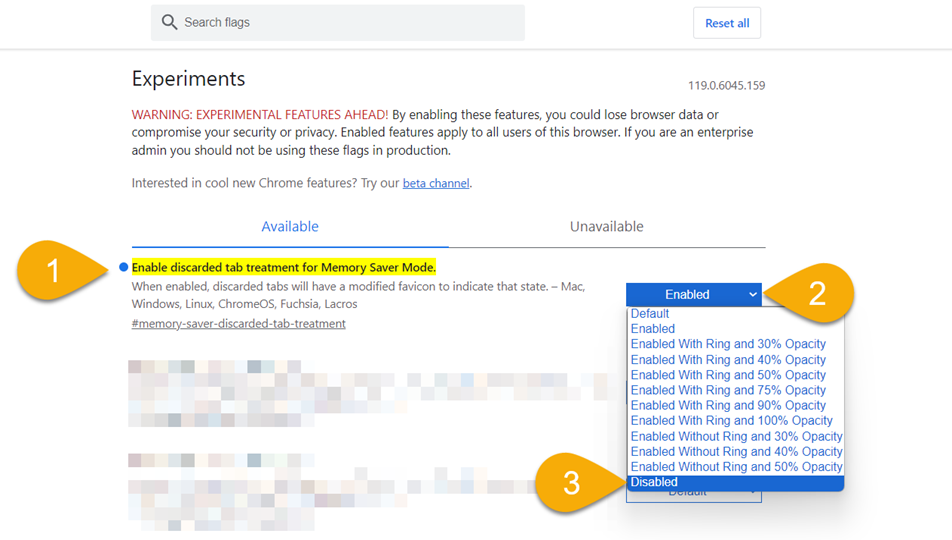 Look for "Enable discarded tab treatment for Memory Saver Mode."
Select the dropdown.
Select "Disabled" option.
You'll notice a blue "Relaunch" button appearing, floating up from the screen's bottom. After relaunching the browser, consider closing and restarting it if the changes don't take effect immediately.
While you're welcome to try different ring settings, in my opinion, they're not really worth the time to experiment with.