In the first part of this series, Jonathan Eifert walked you through the basics of creating an Instagram account. So, now that you're set up, you'll need to fill it with content and engage users.
First, Lets Set Some Goals.
Setting goals is a way to measure your success and to determine how effective your presence is on Instagram.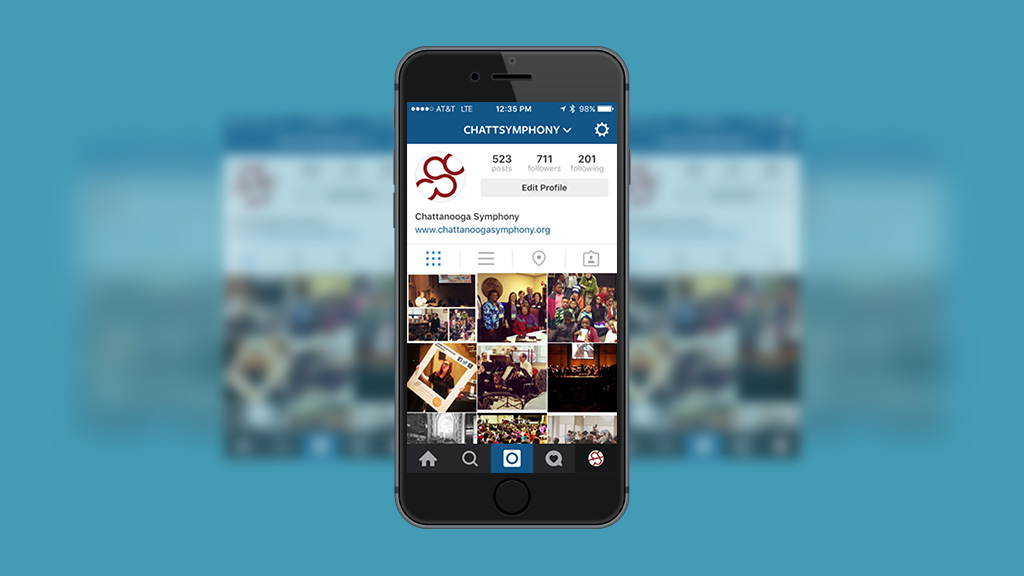 #1: Set a follower goal.
People who want your pictures to appear in their homefeed are called "followers." As they scroll, they'll see anything you post publicly and be able to like, comment, or share aka re-gram your picture. The more people who follow you, the bigger your potential reach, so set a number goal and a deadline: We will have [number] followers by [date].
Tip:
Be realistic in this goal. It is unlikely that you'll start your account and have 1 million followers in a week. Also, remember your audience. My organization,
the Chattanooga Symphony & Opera,
has a concert audience that skews older and they are more likely to be on Facebook. Our goal is 1000 followers by the end of the fiscal year. But, our first goal two years ago was 250 followers in a season. If your typical audience is older/younger, this will affect how fast you can reach the goal and how much work you'll need to put into it.
Tip: Like any other goal, you'll need to put work into this and make a plan. How will you let current audiences know they can follow you on this new platform? Are there influencers who you can work with to promote your new profile? (Hint: we'll be exploring options on how your organization can answer those questions in future articles in this series). 
#2: Set a content goal.
The best way to use Instagram is through its mobile app; the website or Hootsuite hook ins are fine for following other people and liking pictures, but for pushing your own content, this is best accomplished exclusively through the Instagram app. It's not possible now to schedule posts in Instagram so you'll need to post things in real time with content that is in your phone's camera albums. Since it's easy to forget to post to the platform, set a goal for how often you'll post each day or week: "We'll post at least three pictures each week".
Tip: this is another area where realistic expectations pay off. If you are the sole person in charge of Instagram at your organization and are already juggling three other platforms, the ticket sales goals for next week's show, and trying to check your 27 voicemails, you may need to set a low goal and then ramp up to more content as you get used to the platform.
Tip: balance is key. Yes, you want to keep fresh content up so your followers see you often and can engage with you. But, you don't want to spam their home feed. Find a balance that keeps you relevant, but not annoying.
Check in with these goals periodically. If you're consistently missing them, then adjust them or reassess altogether. Don't be afraid to consider that your audience doesn't want to interact with you on Instagram and your efforts would be better spent on other social media platforms.  There's not a minimum number of followers you must have in order to be an Insta-success, but note how much time you're spending creating content specifically for Instagram and using the platform, then divide by the total number of followers to get your time spent per follower.  If this number is surprisingly high to you, then you may need to spend your time on other platforms; if it's surprisingly low, then you may need to invest more time to get more followers.
Now, Let's Talk Content.
Instagram's unique photo only platform gives users a variety of routes to choose from when deciding what content to post.  Your profile could be only used to promote upcoming concerts, to only show live events, to only show behind the scenes pics, or (what I would encourage) a combination of all of the above.  If you're only showing one type of content post, then you need to be really good and engaging at it. Otherwise, your followers will start to skip over you if all you post is "BUY TICKETS  TO THIS SHOW NOW!" pictures.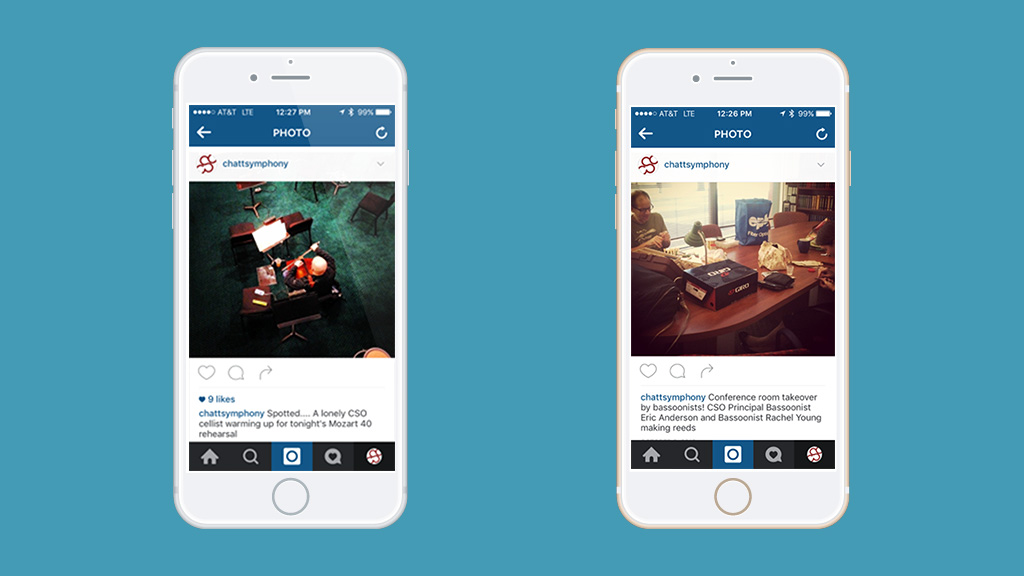 Because there are so many routes, you have the opportunity to curate your organization and the goings-on.  You have the chance to tell the story of your programs, your people, your mission through visuals and allow followers to connect with you in ways they can't on other social media platforms.
Storytelling
Although Instagram is a photo-centric platform, the content of the photo is just as important a factor as the quality. A guest artist head shot may be beautiful, but may not be as inspiring or provide as much tug-at-the-heartstrings value as a picture of a kid in your beginning string orchestra playing his/her first concert. Instagram photos should capture a moment in a story and it's important to keep that storytelling in mind.  Stay tuned to ArtsHacker for articles about how to pick photos that do just this.
Photo Quality
It should come as no surprise that your photos need to be good quality, but there are ways to use filters and other settings to make a grainy, live shot look great; this is a topic that begs another post, so be on the lookout for another ArtsHacker article about filters and such. Another option (although, it doesn't feel quite as authentic to me) is to take pictures at events with a camera, edit them on your desktop, and then send them to your phone to post. This usually turns out great quality pictures that will be more captivating. I prefer live shots from events as they're happening. This, though, is up to you and how you want your profile to look and feel.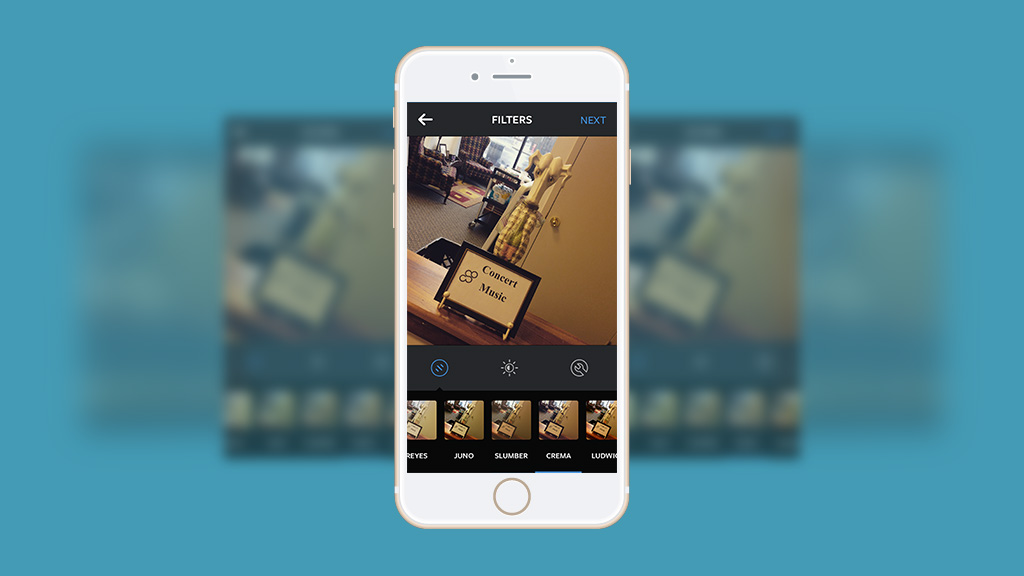 Well, What Should You Post?
The types of visuals that you post will of course depend on your artistic medium and on your organization.  A summer festival's profile will look a lot different than an advocacy organization's profile. The examples you'll see below are from my organization's profile, a classical music performing arts organization. But, there are several types of visuals that all organizations have and would make for great posts.
Backstage and behind the scenes photos
My favorite type of picture to post, and the ones to our account that see the most engagement, are behind the scenes pictures of the goings on at our office, of set-up for a concert, of rehearsals in action. Arts audiences frequently only see the finished product, not the process. Letting them in to the other side gives the feeling that they're an insider and also has potential for some of the funnier or more poignant posts.
Live pictures from events.
Balance is key here (as above, don't spam your followers!), but posting live helps tell the story of what's going on in real-time. It's a great way to interact with people at the event, but also keeps people who aren't there a little bit in the action. And maybe next time your event rolls around, they'll purchase a ticket and attend (the wish-you-were here angle can be helpful here).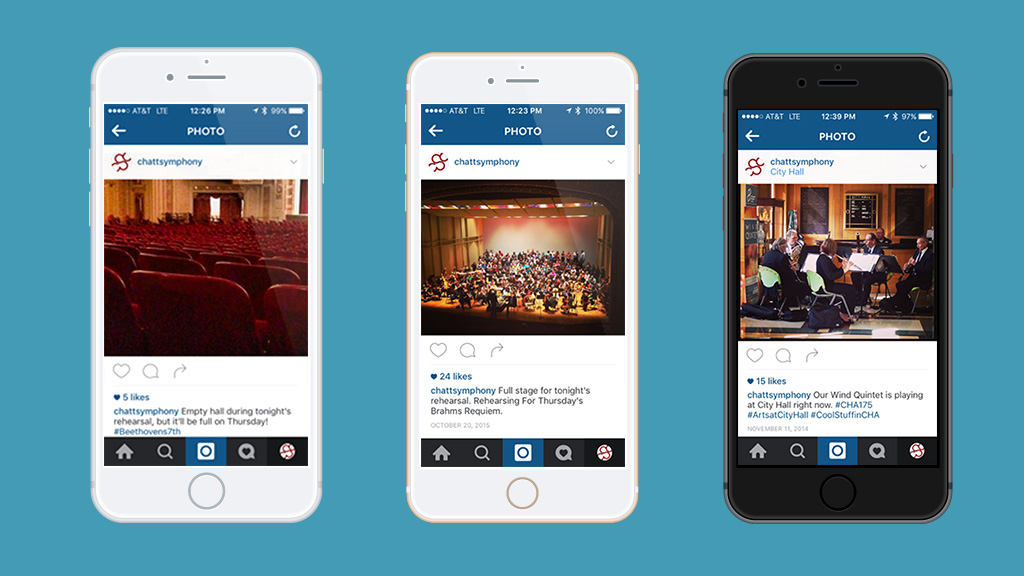 Hook into different campaigns or create your own.
An easy way to create content is to post similar photos regularly, as part of a campaign.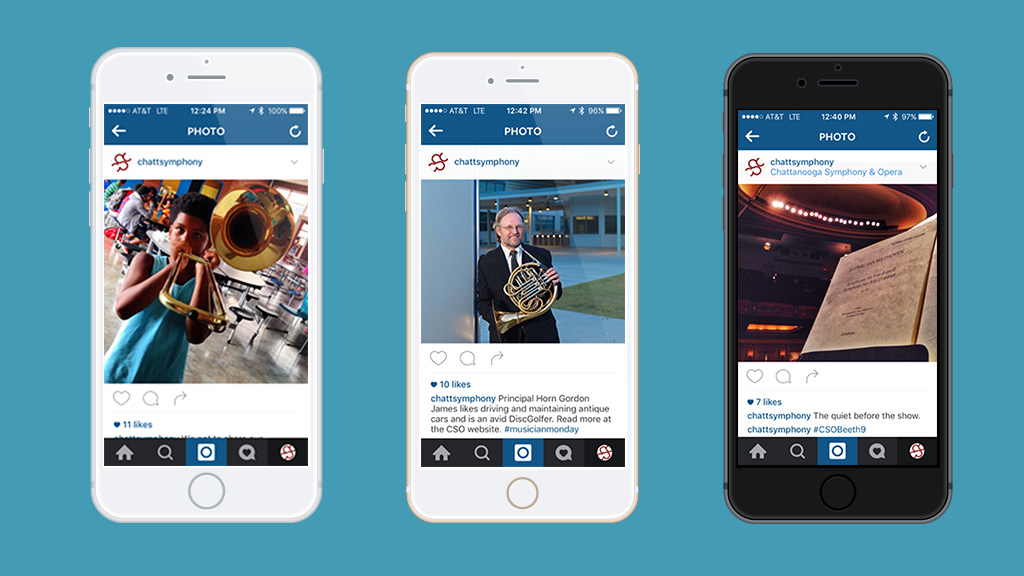 Creative reuse: one of the most famous campaigns across Instagram and other social media channels is Throwback Thursday, found with the hashtag #tbt. Mine your archives for pictures from your first exhibition, from dancers in past productions, or your conductor as a kid.
Highlight your people or programs. A few orchestras post pictures of their musicians on #MusicianMonday. Pick a day and highlight artists, your education programs, your 2016/17 season and post pictures and information around that.
Hashtagging: pick a hashtag for your concert/exhibit/show and encourage audience members to post their own pictures with it. Not only does this create great engagement opportunities and content posting opportunities, it also takes some of the work off of you. Your audience creates the pictures and curates the story.
Don't Forget The Words.
Yes, Instagram is visual. However, the caption you write underneath your photo needs a bit of attention. Use this space to describe the scene, to make a funny comment that is unexpected from a buttoned-up organization, share facts, or post a call to action.
The caption should have the same tone as your picture and should be short and descriptive.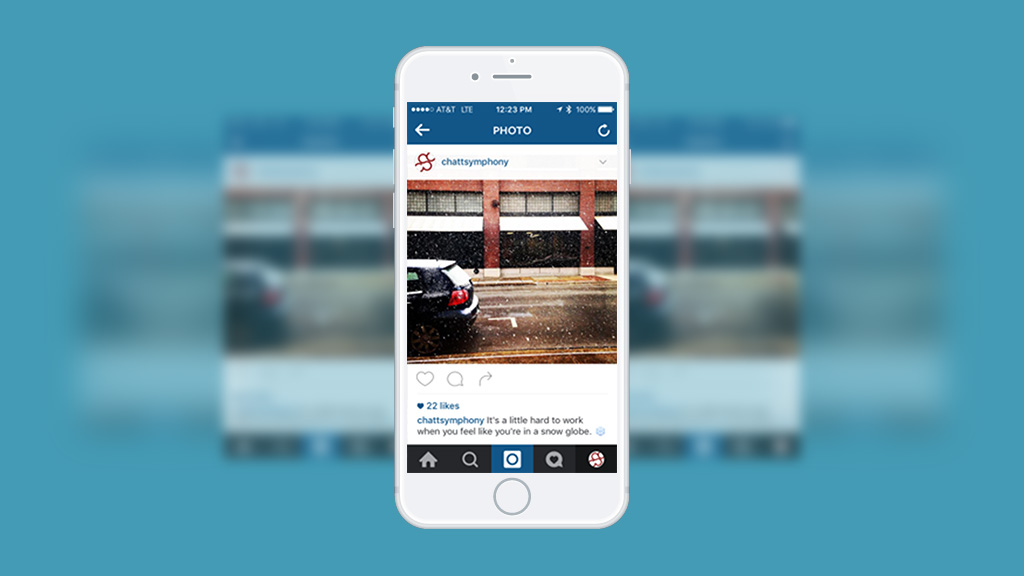 Followers are scrolling and unlikely to stop and read lengthy descriptions unless they are really juicy descriptions. Take some time before pressing share to craft a great caption.
Tip:
 don't forget to use hashtags in the caption. ArtsHacker
Ceci Dadisman
has a great
post
about using hashtags for audience engagement.
Experiment with what your audience likes and reacts to and adjust as needed. But, most importantly, have fun with it!