Throughout 2018, Google has been releasing all sorts of new and enhanced features inside Analytics and one of the most recent promises to be one of the most exciting: cross device tracking and reporting. Here's Google's description:
Cross Device reporting in Analytics takes into account people who visit your website multiple times from different devices. Now, instead of seeing metrics in Analytics that show two separate sessions (e.g., one on desktop and the other on mobile), you'll be able to see when users visited your website from two different devices. By understanding these device interactions as part of a broader customer experience, you can make more informed product and marketing decisions.
This is a particularly intriguing development for arts organizations that sell tickets in that the typical user flow from the time a patron enters your site to when a ticket is purchased will include multiple visits. In turn, those visits are spanning across both mobile and desktop devices.
Previously, this made tracking behavior less accurate, but this latest development takes a monumental step toward rectifying that metrics blind spot.
The feature is currently being rolled out and you'll know it's available for your GA account by one of two methods:
You'll see a big blue banner at the top of your admin panels announcing it and asking if you want to enable Google signals (which relies more on Google's signed-in data to produce more accurate analytics).
You'll see the ability to activate Google signal by navigating to Admin > Property column > Tracking info > Data Collection where you'll see the option to activate Cross Device tracking (FWIW, this new feature completely replaces the "Remarketing and Advertising Features" option on that same admin panel).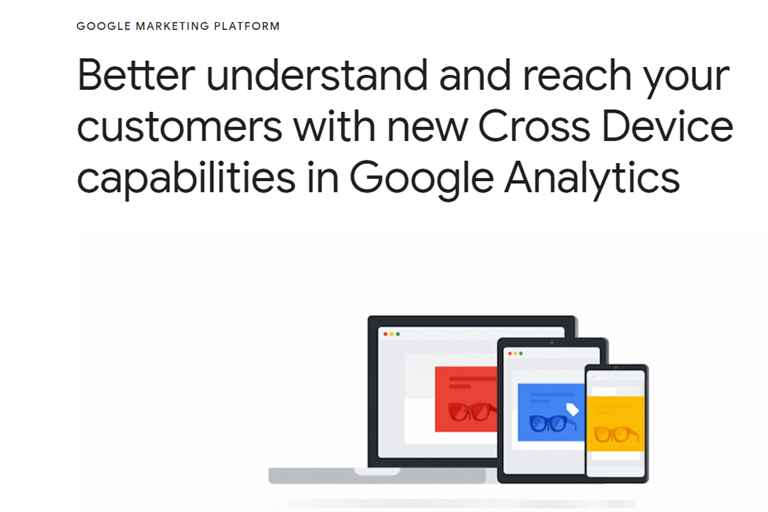 Read more about activating Google signals at their support documentation.
Read more about the type of data you'll see in the Cross Device reporting documentation.
Does anyone have signals activated yet? If so, what sorts of insights are you seeing in the Cross Device reports?