Ever feel like you are just sending out email after email, shouting your message at the top of your lungs over and over again to mixed results?
The key is to make sure that you send follow-up emails to your patrons after you've sent the original sales email.  This keeps your message top of mind without simply sending the same thing over and over again.
One of the simplest ways to send email follow-ups that get attention is to segment them by email behavior.
For every sales email you send out, send out three follow-up versions:
People who opened the first email but didn't click on your CTA button
People who opened and clicked but didn't purchase tickets
People who didn't open the first email at all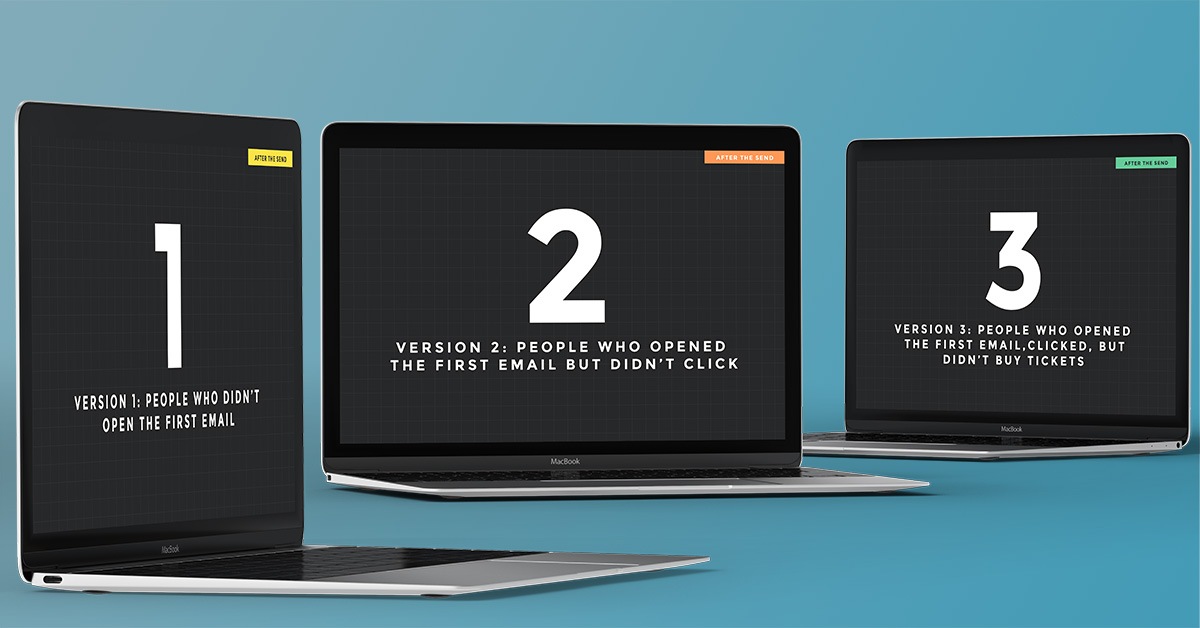 So, let's start with the easiest one:
Version 1: People who didn't open the first email
Why is this the easiest? Because they haven't seen anything in the email because they haven't opened it so all you have to do is resend the same email with a different subject line.  Try something a little more eye-catching or compelling.  Perhaps phrase it in the form of a question. Anything that will spice it up a bit.
Version 2: People who opened the first email but didn't click
Let's think about the reasons why these folks would have opened the email but not go the next step.  Of course, there could be a million different reasons, but let's try and venture a guess.  Let's say that this email is about an upcoming concert and you are looking to sell some tickets.  In the first email, you probably gave some basic information including your stock descriptive copy, perhaps some links to additional information, and maybe you threw in a press quote.
In this follow up email, try providing some additional information about what is special about this particular concert.  Do any of the soloists have an interesting background?  Is there a juicy back story related to the music or composer? Is there something unique that is a part of the performance?  Include these elements with new compelling imagery.  If you have a promotional video (or even a video of the performers/piece from YouTube) try adding that in as well.
Version 3: People who opened the first email, clicked, but didn't buy tickets
This version is the one that will most likely receive the highest conversion rate.  They have looked at the email, were compelled enough to click, but then something stopped them from buying.  Perhaps their attention was drawn away from the buying process for some reason.  Maybe they need to ask their significant other or friends about the date/prices/seating before they commit.
Try offering help or additional information that is related to the purchase process.  My favorite way to do this is to select three "box office recommended" seating sections and list the prices along with a photo of how the stage looks from those seats.  You could also utilize photos of your friendly box office staff who are at the ready to take the ticket order or answer any questions.
But….how?
You may be totally grooving with what I'm talking about here and are asking the question "But how do I do this in my email marketing software?"
Most email marketing software allows you to easily create segments or lists based on email behavior.  I certainly can't cover every option here, but I can show you a couple of examples just so you can see how easy it is.
If you use MailChimp, it is simple to send an email to people who did not open the original sales email. You can do this in the first step of creating a campaign when you create your recipients:
If you are using Constant Contact, you can create a new list of people who clicked your link in the email by going to the campaign report, clicking on the number of clicks next to the link in question so that you can see the list of their email addresses, select all, and add them to a list:
See how easy it is? I hope that you will send out at least one follow up email after the next sales email you send out. I'd love to hear how it works out in the comments below!
Let's get to work.