Keeping an active presence on social media is becoming increasingly more important for all organizations. Arts organizations have many great opportunities to connect with their audiences, find new audiences, and share the work they are doing using different platforms.  But, posting something everyday (sometimes multiple times a day on multiple sites!) can leave you rocking back and forth in front of your computer.
The answer? Schedule your tweets.  There are many different sites that will allow you to do this, but my favorite is Hootsuite.com
Hootsuite is a social media management site that allows you to manage a variety of platforms, analyze your success, and my favorite, schedule tweets and posts in advance.  There are pro versions that allows you to add more profiles and users, but a lot can be done with the free version, which allows up to 3 social profiles.
First, you'll need an account. Head to hootsuite.com and choose your plan. Again, the free plan is a great place to start and for most small to midsize groups should work well. Create your account and then choose the  social media platforms you'll connect. (Do be careful when choosing your platforms that you are picking your organization's profiles and not your own.  You don't want to invite your entire audience to join you for Funky Friday drinks; see Red Cross rogue tweet handling if this occurs.)
Once you've chosen your accounts, you'll see them appear in tabs across the top of your dashboard.  The Twitter tab is one of my favorites because I can sit from on high and peer into the twitterverse seeing the CSO's home feed, mentions, sent tweets, scheduled tweets, messages, and any streams we're following in one place.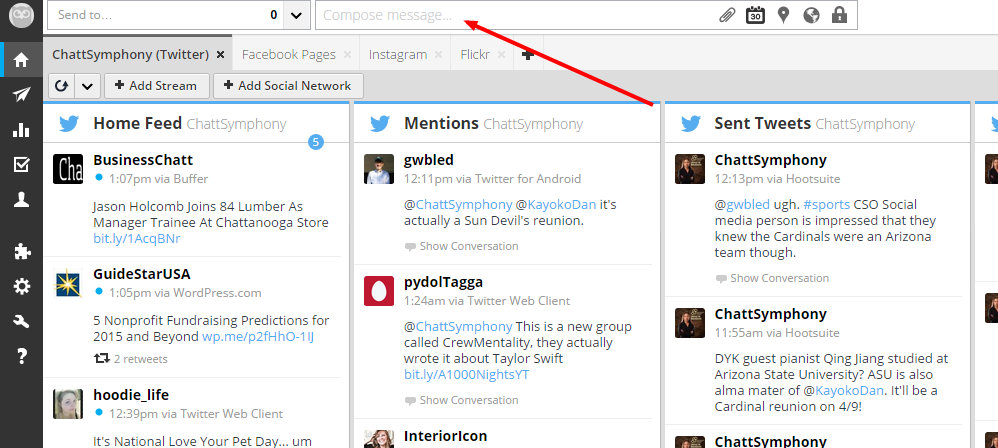 To schedule your post, begin typing it into the white box at the top that says "Compose message".  To add a link, paste the link into the box for the actual link or paste it into the "add a link" box for a shorter version.  To add a picture or another file, click the paperclip icon and choose your file.  You are restricted to character limits and adding links or photos count in those limits.
You can use hashtags and @mentions in your messages, but the @mentions only connect to Twitter users.  If you want to connect to a Facebook page, I'd suggest scheduling or posting your message directly through that site.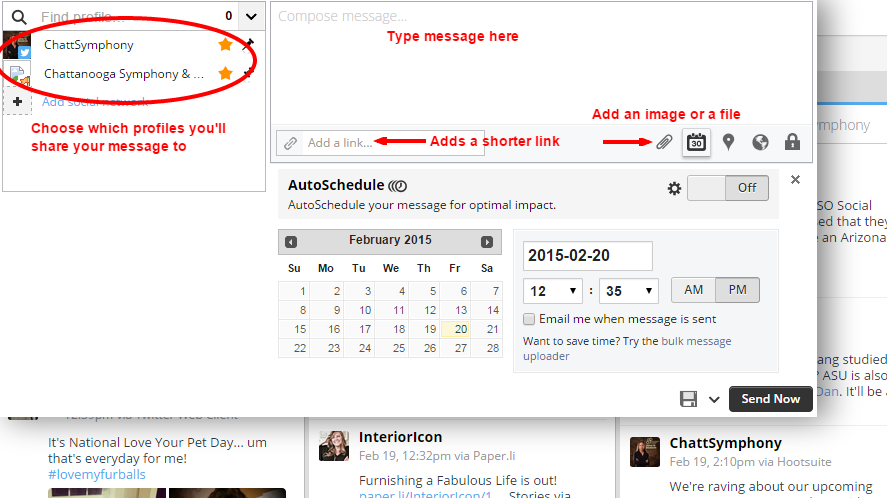 To the left of your message, choose the platforms you'll want to post it to.  Remember, what may be a good message for Twitter may not necessarily be a good message for Facebook or LinkedIn, so check yourself before choosing the platforms.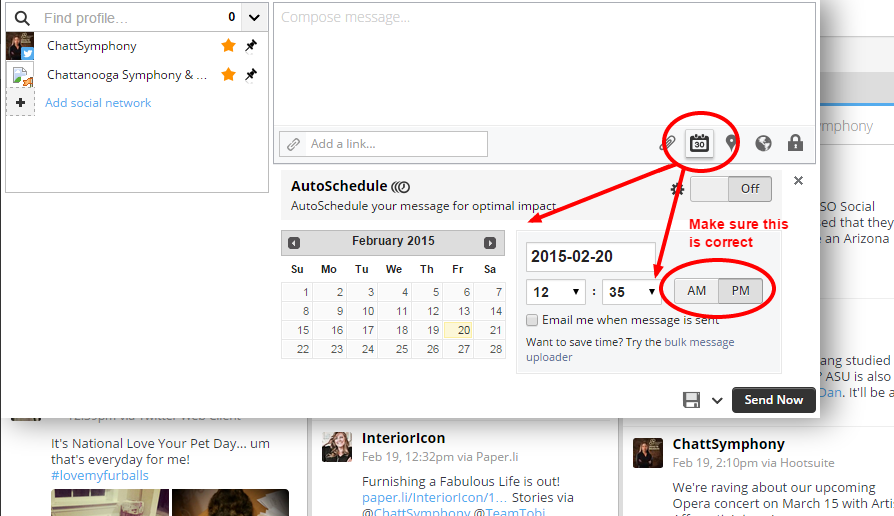 Once you've picked your platform, click on the calendar icon and choose the date and time that you'd like to send it.  You can schedule 5 minutes into the future and beyond.  Do make sure that the AM or PM button is correct. Check your message one more time for any errors and click "Send Now". (It doesn't actually send it now, but queues it up for its scheduled time.)
You will want to keep track of what you schedule, so you can watch it for any comments, retweets, etc. so check out my post about Putting your Social Media Plan into Action for a handy Excel sheet to keep track of every post.