Even for seasoned professionals, writing powerful and effective headlines isn't always second nature. In a field where so many segments have witnessed a dramatic shift in marketing nomenclature, the task becomes that much more difficult. On one hand, you don't want to risk alienating potential patrons by clinging to traditional approaches that are increasingly out of touch, but you don't want to come across as a Copy Writing Tool™ either.
Simply put, you don't want to end up writing headlines that sound as though they came flying out of a Memeograpgh™ machine (hence the ironic headline for today's post).
Fortunately, you can keep tools like CoSchedule's Headline Analyzer handy in order to stay sharp without selling your creative soul.
CoSchedule deserves kudos for designing a wonderfully intuitive real-time instrument that analyzes your headlines via several segments:
Headline Overall Score
Word Balance
Headline Type
Length Analysis
Skimming Analysis
Keywords & Sentiment
Granted, the tool is entirely algorithm driven and based on CoSchedule's criteria so you shouldn't take any rating or suggestion as the gospel according to Godin; but that shouldn't dissuade you from using it either. It's a great tool.
The only real limitation is technical in that the Headline Analyzer page isn't responsive; meaning, it works great on desktop/laptop environments but is increasingly frustrating to use on mobile touchscreen devices.
Using The Headline Analyzer
All you have to do is type/paste your headline into the analysis field and click the "Analyze Now" button.

The system will take a few seconds to process then produce a full page of results, divided into each analysis segment. From there, you can dig into each segments results by using a combination of hover based tools and links to expanded definitions of recommendations and tips.
If you opt for refining your headline or entering something new, make sure you don't miss the "Headline History" section that appears below the headline entry field. It provides the overall score for each variation and clicking one will automatically paste it into the analysis field.

Headline Overall Score
It's tough to resist the pull of a big, validation driven score, but this is probably the least important element of the results.

Word Balance
This section provides an analysis of the overall structure, grammar, and readability.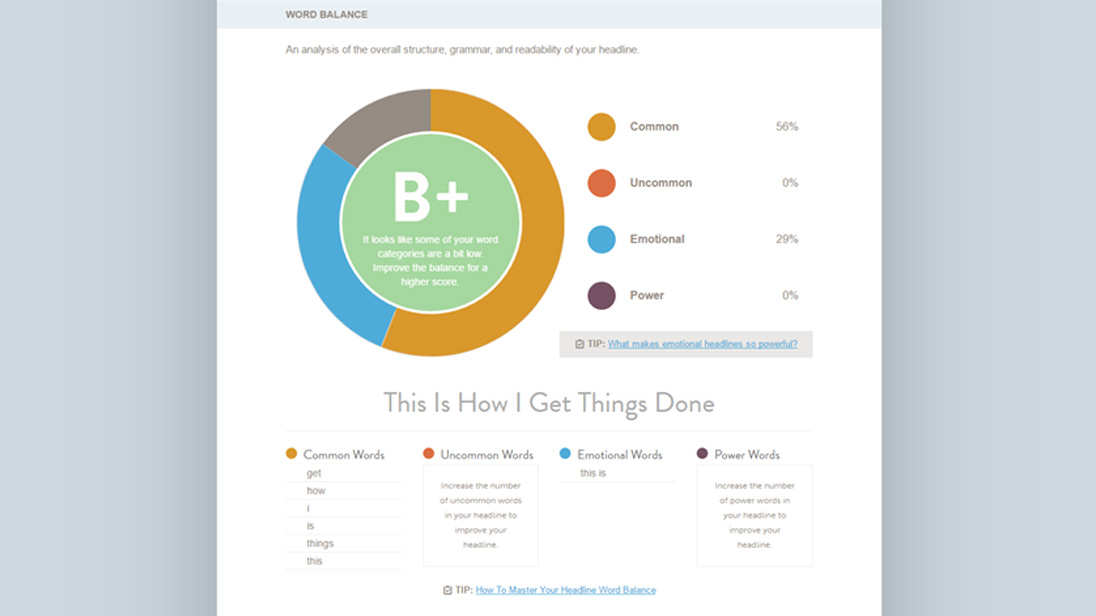 Make sure you don't miss the additional info provided by hovering over each of the four word elements. Doing so will provide an explanation along with highlighting the corresponding words in your headline.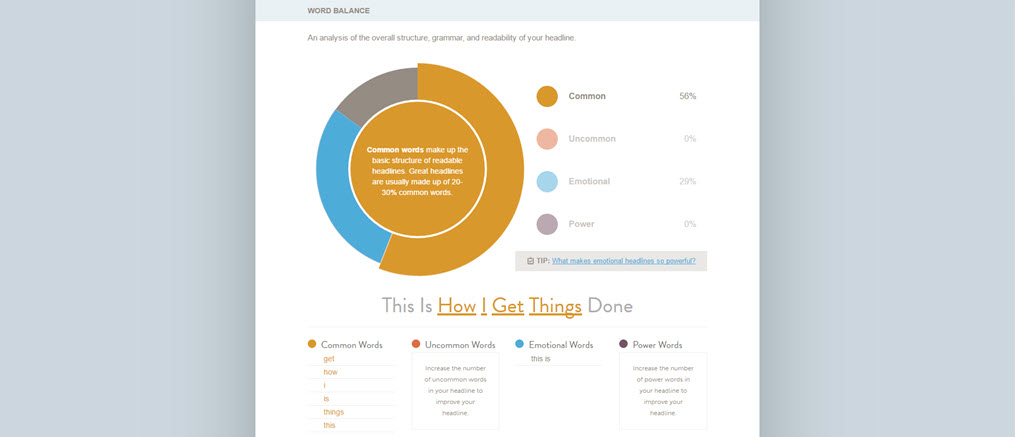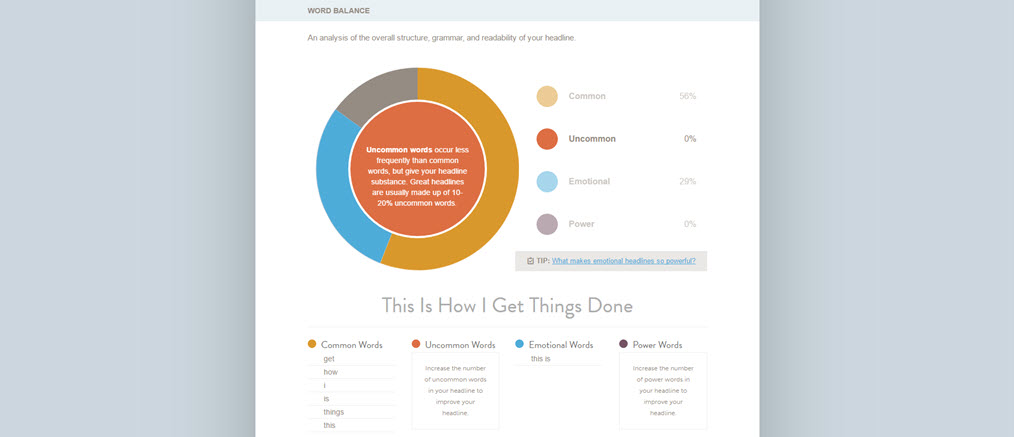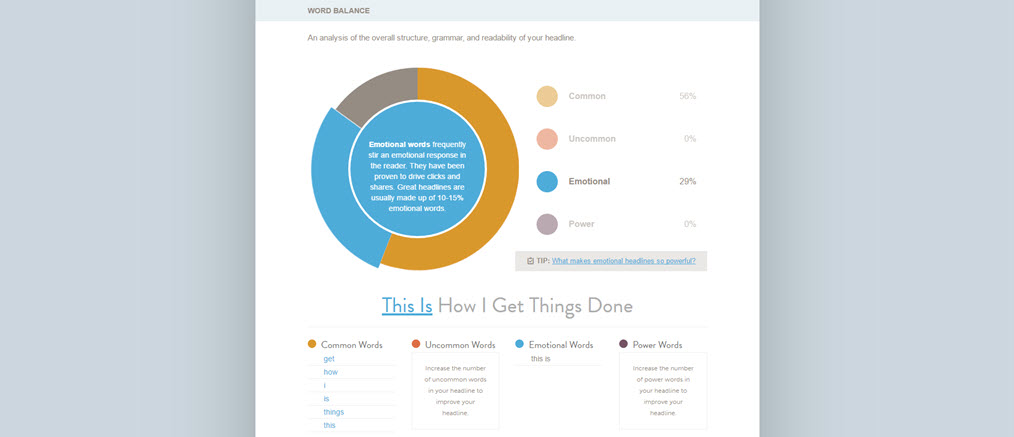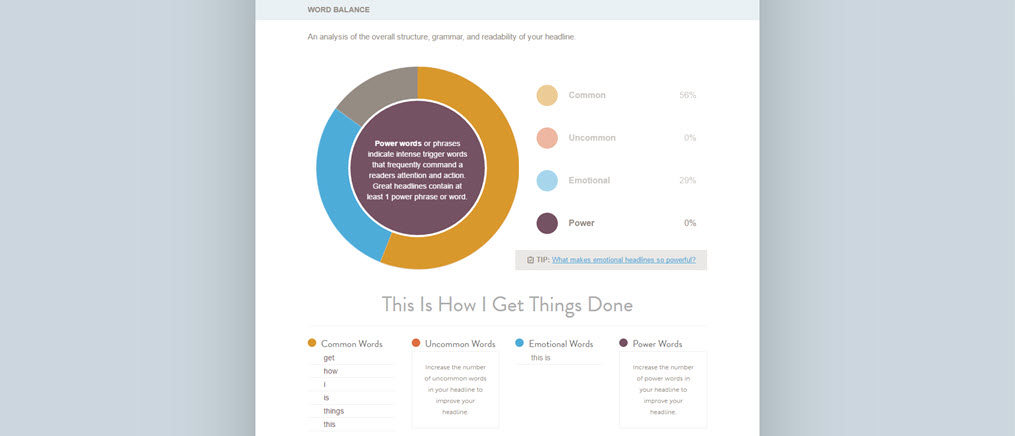 This segment contains two useful links to CoSchedule articles explaining their take on the value and importance of using emotion in headlines along with additional information about word balance.
Headline Type
Although somewhat subjective, don't let that fool you into skimming over this segment.

Where you intend to use the headline will influence how much value this section provides but be sure to take a look at their expended material about the different types of headlines. It's especially useful for any of you who feel less than confident writing headlines for social media platforms.
Length Analysis
This is easily one of the most useful segments. Not only does it contain both character and word counts but it provides previews for how the headline will look inside a typical desktop Google search preview as well as an email subject line preview via a generic email client.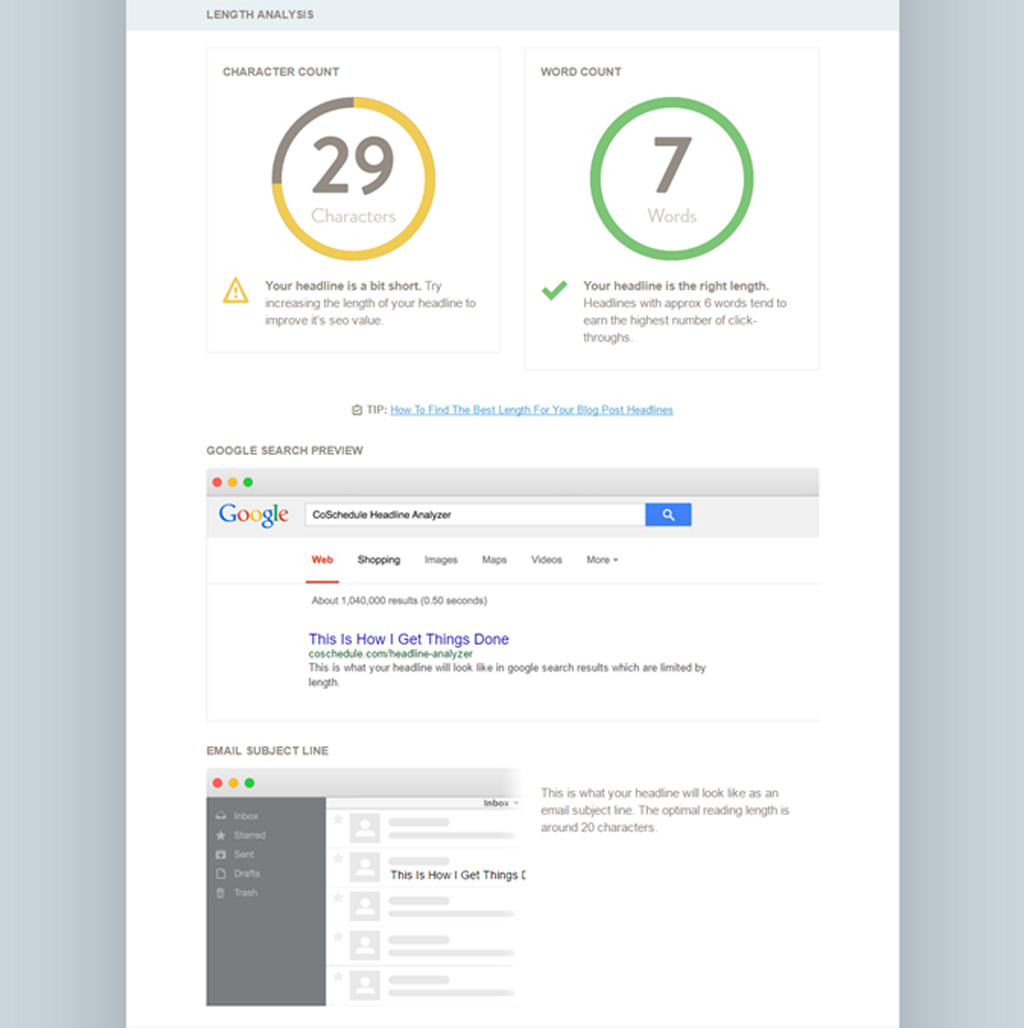 The only thing really missing from this segment is a Twitter length analysis.
Skimming Analysis
Skimmers: we love to hate them but there's no getting around the fact that your audience is going to zip through material so it's good to have this reminder.

Keywords and Sentiment
Although the keywords results may have limited value if you tend to use a great deal of nomenclature and/or something like artist or ensemble names, the sentiment result does a nice job at making sure you don't let your bad day get the better of you by seeping into your copy writing.

Overview
Let's cut to the chase: this is a highly recommend tool.
Pros
Really fast.
A beautiful flat UX aids in scanning and internalizing results.
Clearly organized results via a single page design.
Analysis divided into segments.
Headline History tracks recent analysis, making it easier to select the desired version.
Wonderfully useful tips (for pros and newbies) that allow users to dive deeper into segment details.
FREE (not even a registration-wall hurdle).
Unlike most free tools, CoSchedule doesn't hard sell their services throughout the page (that comes later if you click-through to any of the additional tips and info pages).
Cons
UX becomes clunky on Smartphones and smaller tablets.
Has varying degrees of trouble processing arts based nomenclature.
No ability to tweak analysis settings (although that could be a nice paid feature).
No ability to batch process (another good paid feature option).