Using your personal cell phone for work in no fun. But that's the reality for most arts managers inside a field where having a chair with four legs of equal length is a mid-career milestone! Major cellular carriers routinely conspire to keep prices high and over the course of 2015, they ushered in a new reality of increasingly convoluted plans and contracts. Fortunately, Google decided to throw its hat into the cellular provider ring and in March, 2016 they opened up their Project Fi service to the general public. That's when I decided to test the waters and switched my business cell service from Verizon to Google Fi. Simply put, the results have been extraordinary.
NEED TO KNOW INFO
In a nutshell, Google's Project Fi is designed to be a simple to use, reliable cellular provider with an easy to understand usage plan and billing. It's so straightforward, you may end up spending time looking for gotcha style loopholes that simply don't exist.
Plans
There are no annual contracts.
There's only one plan: a $20 flat fee for unlimited talk and text and $10 for each Gigabyte (GB) of data.
Data accessed using Wi-Fi does not count against your plan totals.
Unused data is rolled over as prorated credit to the following month, so if you buy 2GB of data for $20 and only use 1.4GB over the course of the month, you get a $6 credit on the following month's bill.
Network
Cellular service is a combination of Wi-Fi and traditional 4G LTE cellular connections using the T-Mobile and Sprint networks.
Your phone will automatically connect to whichever option provides the strongest signal with fastest connection speeds.
Calls and data connections will even transition between options if you move from in or out of Wi-Fi coverage.
Devices
Right now, Google offers two phones that are compatible with the service: Nexus 5x and Nexus 6P although the older Nexus 6 phones will also work.
There are no requirements to finance your phone in order to qualify for discounted prices!
Phones range in price from $199 – $649 and you can pay them in full up front or finance over 24 months (at the time this article was written, Google is offering discounted prices).
Data-only devices include Nexus 7, Nexus 9, iPad Air 2, iPad Mini 4, iPad Pro, Galaxy Tab S. For these devices, you'll use a SIM card provided by Google.
All devices come with the most recent version of Android installed and zero bloatware!
Google provides accelerated queuing for Google Fi users as Android updates are released.
FIRSTHAND EXPERIENCE
Account Setup And Number Porting
Creating an account is every bit as simple as Google claims. It took me less than five minutes per phone/line and I did the entire process for both phones using my iPad.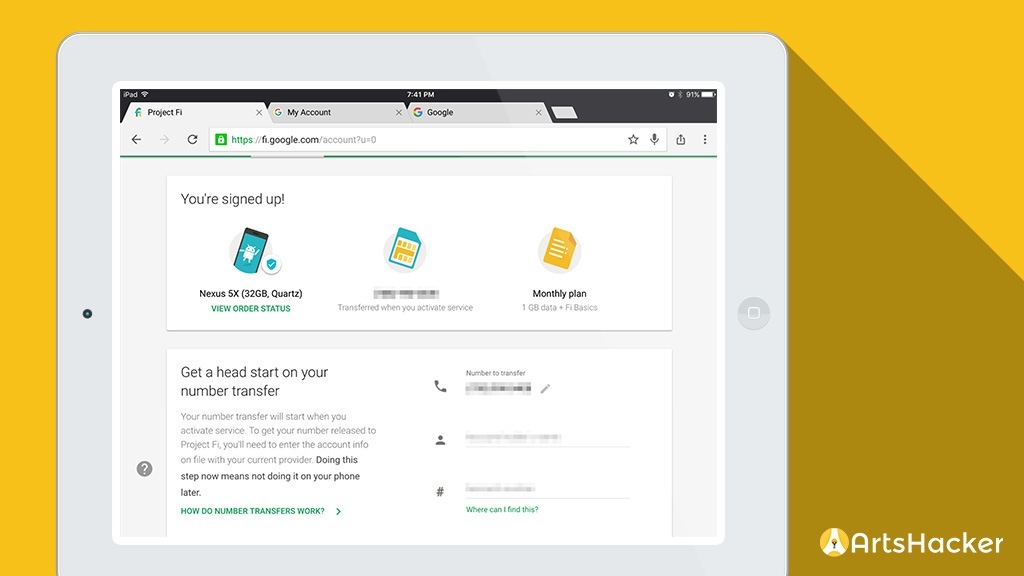 Transferring the number was straightforward as well although I did encounter issues with Verizon and Google not playing nice. In both instances, a call to Google Fi support was required but they managed to sort things out and once that was settled, the actual transfers completed in under an hour.
Phone Setup
This is perhaps the only aspect of the service that failed to meet Google's projections. Transferring settings, apps, and data took substantially longer than Google's documentation indicated and in both cases, multiple calls to Google Fi support were required. All in all, both phones racked up nearly four hours of time to complete the transfer process.
Having said all of that, the process wasn't any worse than data transfers I've experienced on other carriers, but it decidedly wasn't any better either.
To that end, and until Google rolls out some updates to address the issue, you'll need to keep in mind that each third party app migrated to the new phone triggers a separate update/restart process. The system won't download and install all of the updates first then implement a single update oriented restart, which means you're going to chew through a lot of time; the more apps you use, the longer the process.
In my case, both phones had approximately two dozen third party apps so in order to cut down on the wait, you may want to delete any from the old phone you don't really want to use prior to initiating the transfer process.
Call/Data Service Quality
It's worth pointing out that my pervious provider, Verizon Wireless, had terrible signal strength where I'm located in Chicago. It was so bad, that I had to use a network extender, which routed calls through my high-speed internet connection so in a very real sense, I was already using a Wi-Fi connection for both data and calls (but Verizon was still charging me for it!).
Once the new Google Nexus 5X phones were set up, their call strength and quality were just as good if not better than calls on the Verizon network. Moreover, data transfer speeds were amazing, 90Mbps download and 20Mbps upload (that's twice as fast as my iPad Air connection on the same wireless network).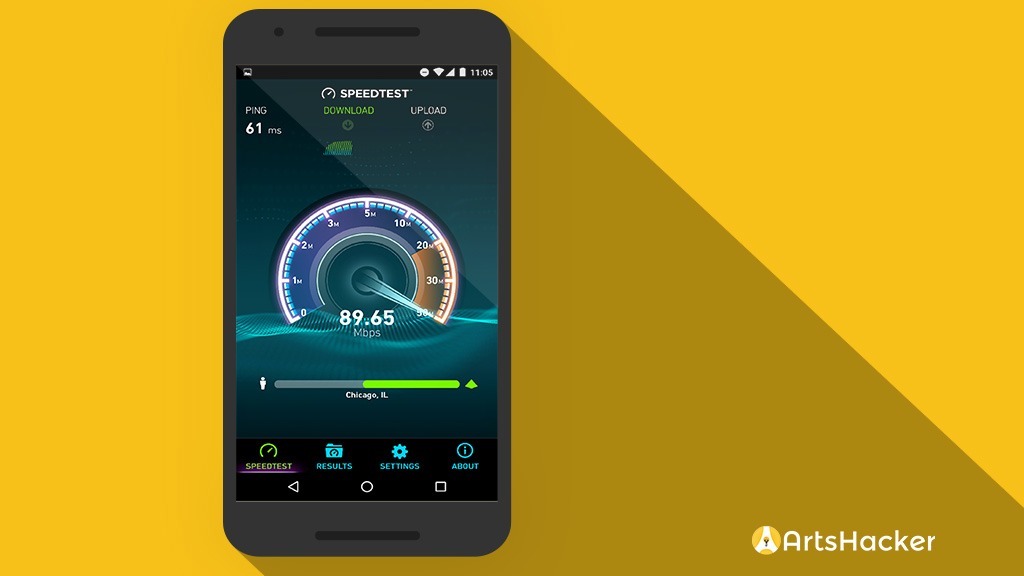 You will want to check Google Fi's coverage map and test your office's wireless network speeds in order to get a better idea of potential results.
Support
Say goodbye to Battered Cellular Provider Syndrome. Working with Google Fi support is by and large a pleasure compared to traditional carriers. Support is available via phone, chat, or email and I used all three in order to experience any differences.
I did notice email support tended to be far more RTFD than I would have liked, but live chat and telephone support were far above average.
Phone Quality
Simply put, this isn't a phone review. In my case, I purchased two Nexus 5x devices and both have been a genuine pleasure to use. Having said that, I've always liked Android OS over iOS and Windows but if you want to learn more, there are ample reviews available online.
PROS AND CONS OF USING GOOGLE FI FOR BUSINESS SERVICE
Pros
Data-only sim cards for a limited number of recent model tablets provides added opportunity for operations and box office personnel.
A remarkably effective and simple to use interface for creating data use alarms and setting caps. You can make sure you never go over your data allocation by setting a cap that will disable data usage over cellular connections at a user defined threshold.
The ability to increase and decrease what you pay for data usage on a monthly basis makes it easier to scale capacity during busier periods while cutting back to save money during quieter months.
The $5/mo per phone protection plan is inexpensive piece of mind insurance.
Compared to my previous Verizon plan, I reduced monthly cellular expenses by 57 percent while improving quality and service.
24/7 support.
Service and support are fantastic.
Account management tools are fantastic.
Free data coverage in 120+ countries! Moreover, there won't be any need to swap out SIM cards.
Front of the line cuts to all major Android OS updates (some carriers take several months to roll them out).
NO BLOATWARE!
Built-in hotspot functionality. I can tether my iPad air to my Nexus 5X without any additional cost and the usage app separates native and tethered device usage so you can see which device is responsible for data consumption.
Month-to-month contracts and no cancellation fees. You can even "pause" service during longer stretches of time you plan on not using the device then reactivate when you need it.
Transparent billing; no hard to figure out fees, or ambiguous service charges. For my 1GB plan with damage coverage, I pay $30 per month plus $5 in damage protection and $8.03 in taxes and regulatory fees bringing my monthly bill to $38.03 before any subsequent unused data credits.
Did I mention unused data credits?

Cons
No shared data plans.
No group account admin panels; each phone has its own respective account controls so a system manager would need to log in/out of each account in order to manage any account settings.
Limited phone selection. If you don't already use Nexus 5x, Nexus 6, or Nexus 6P phones, you'll have to purchase them.
If your office doesn't have Wi-Fi, you'll end up burning through your data allocation pretty fast. You'll also be at higher risk for lower call quality and connectivity.
If your office Wi-Fi is spotty from one room to the next, you may encounter what some users have been reporting in the form of a connection hic-up where the phone continuously bounces between cellular and Wi-Fi connections as it gravitates toward the stronger of the two signals.
There's always a change Google could pull the plug on the entire project. But given their success and expansion to date, that shouldn't rise to showstopper level.
Google will always default to your Gmail address for support and system messages.
CONCLUSIONS
Google's Project Fi is a superb option for everything from one-man-band operations to mid-size organizations. The affordable price point for such a solid and reliable offering opens the business cellular option to hundreds (if not thousands) of small to mid-size performing arts organizations that would otherwise be unable to afford the option.

Resources
Disclosure: Google did not provide any devices nor did they provide any discounts or complimentary plans for the purpose of this overview. All phones and plans were purchased at market price and all material here is provided via first-hand experience as a new user migrating from an existing cellular carrier.