If you or your organization have ever attempted to connect or sync data between mutually exclusive apps and software, you likely know the heartache that is dealing with APIs, or application program interfaces, the language that allows one piece of software to communicate with another. Fortunately, there is a growing movement within the tech industry that has given birth to the app automation service provider.
In this instance, when we use the term "app" we mean everything from Facebook and WordPress to Gmail and MailChimp, it also includes database/ticketing services like SalesForce, Eventbrite, and Highrise to accounting software like Quickbooks, Freshbooks, and PayPal.
One of the emerging leaders in this new market is Zapier.com, which specializes in creating platforms for connecting apps/software in order to automate a wide range of data syncing tasks. Simply put, they help you move data from Point A to Point B and can even trigger a service to perform a function once data is delivered.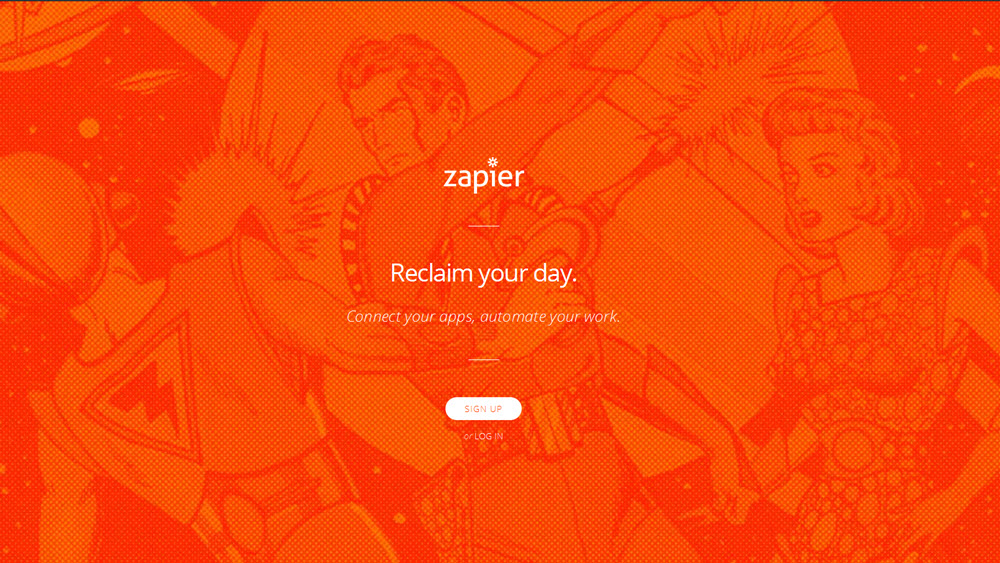 Currently, Zapier provides a point-and-click service for connecting more than 400 platforms in 26 different categories and they are adding/refining existing offerings all the time. You can see which apps and platforms they work with by visiting their ZapBook.
Where Zapier Excels
In short, Zapier is all about automating tedious tasks and for offices with one or a handful or employees, these time savers can be worth their weight in gold.
As a technology provider that specializes in performing arts groups and artists, I use Zapier all the time with clients and one of the most common uses is building email marketing lists. We use Zapier to push subscription form data to one of dozens of email marketing providers: MailChimp, Constant Contact, Gmail, Emma, iContact, Vertical Response, etc.
Yes, most mainstream email marketing providers offer some sort of copy/paste code to insert subscription forms into websites but the reality is they don't work very well with responsive web design nor do they adopt your website's branding elements. As such, the platform we use (WordPress) has a unique form building tool that creates beautiful and dynamic forms designed to integrate perfectly with the site's branding and styles and we can connect those right to the respective email marketing provider using Zapier.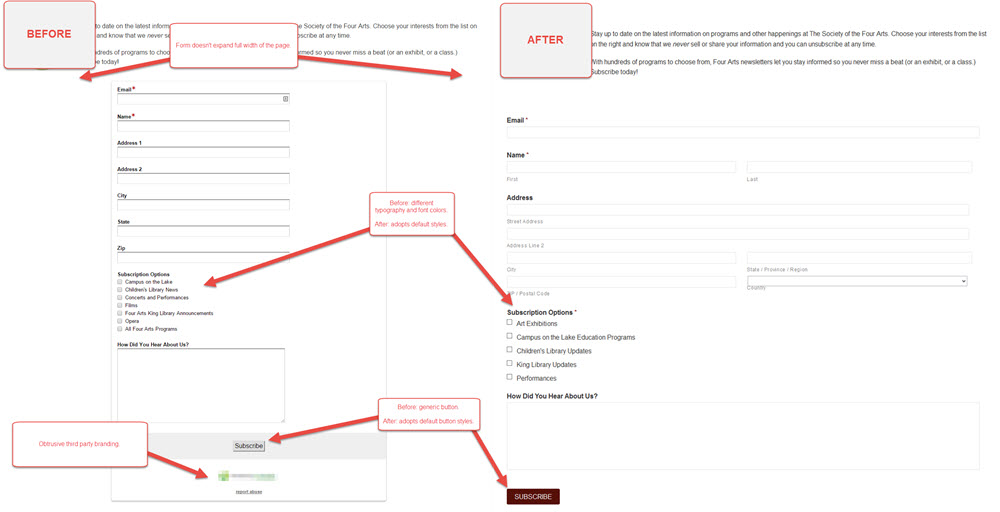 In more complex arrangements, we created a series of conditional elements that push e-Commerce data to multiple targets, such as Salesforce and Freshbooks, with the goal of triggering a multi-step action. For example, when a patron completes an e-Commerce transaction that includes a donation and an education course enrollment, we use Zapier to take data from that single transaction and push part of it to Freshbooks to create a new client and generate a recurring monthly invoice while the donation information is pushed to Salesforce where it is either added to an existing user record or a new record is created.
We also help users connect entirely third party services that don't intersect their website at all such as adding a ticket buyer from Eventbrite to multiple mailing lists at MailChimp based on the type of event ticket purchased. For example, if the patron purchased a ticket for a traditional classical masterworks series concert, s/he would be added to a reminder email list for that event as well as having the option of subscribing to a list that sends an email at the beginning of the month informing the patron of all upcoming classical masterwork category events.
Before Zapier, connecting all of these systems would have required a great deal of custom programming and ongoing maintenance costs but much of those expenses are eliminated and/or reduced thanks to Zapier. Moreover, the entire process is 100 percent automated so the client can say goodbye to the mind-numbing time suck that is data entry. To date, we've saved clients thousands of dollars in costly fees and who knows how many hours thanks to the connectivity provided by Zapier.
Where Zapier Falls Short
Unfortunately, Zapier doesn't offer connectivity for some of the more common customer relationship management (CRM) solutions within the performing arts field; having said that, it isn't that Zapier doesn't think the performing arts isn't worth their attention, rather, most of the related providers don't offer robust enough APIs to make connectivity a reality.
For instance, even though you'll find numerous zaps for Eventbrite, Salesforce, and SugarCRM you won't find a thing for Tessitura, Blackbaud, Paciolan, Choice Ticketing, Patron Manager, or even TicketMonster…er…TicketMaster. In most cases, the hurdles are set up by the respective providers by not supporting an open API standard or they believe in users absorbing 100 percent of any development fees related to working with their API; simply put, they encourage a system where performing arts groups pay for custom programming solutions each and every time, even if dozens of users are simply setting up the same function.
Ideally, performing arts orgs will begin to coordinate efforts and insist that their respective CRM and ticketing providers begin creating extensible apps but in the meantime, you can always petition Zapier directly to add a new service or app.
What Does It Cost?
The good news is Zapier offers a free plan that does an excellent job at letting you get your feet wet without shelling out any money. The free plan provides 5 Zaps (when "X" happens, do "Y") which run every 15 minutes with a maximum of 15 tasks (each time a piece of data or action is triggered) per month.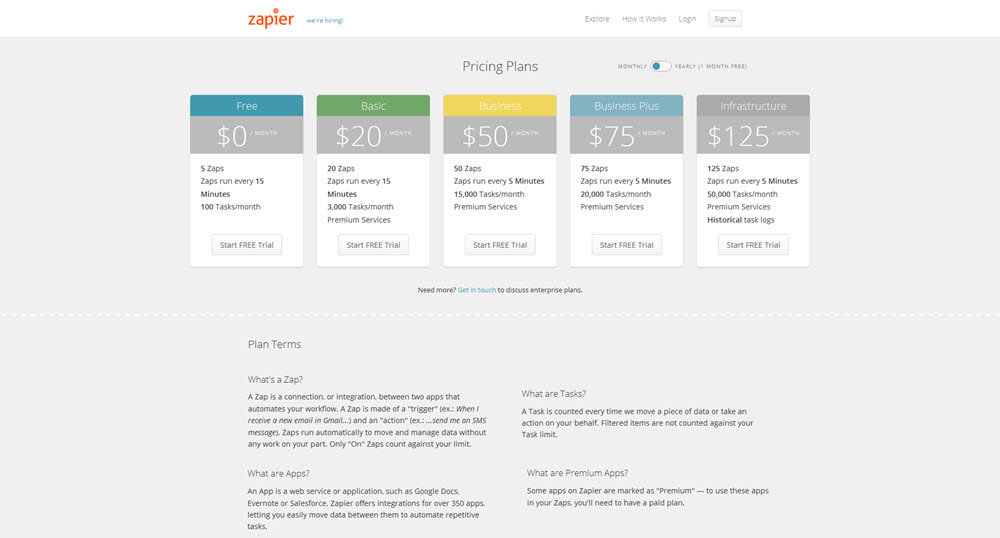 If you determine that there's both demand and resources for bumping up to a paid tier, make sure you notify Zapier that you are a 501(c)(3) as that bags a nice 15 percent nonprofit discount. Also worth noting is all of their plans do offer free trial periods so you can test how the service works via the performance parameters of the respective plan.
Beyond increasing the number of times an action can be triggered and data moved from one point to another, the paid plans also provide reduced queuing from 15 to five minutes. If your organization relies on data moving in as close to real time as possible, that might be worth the price of admission.
Looking Ahead
ArtsHacker will feature an ongoing series of articles dedicated to providing a detailed, step-by-step look at how to set up specific zaps geared more toward common performing arts organization needs; everything from straightforward email marketing configurations to some of the uber-complex e-Commerce and CRM based actions.
Resources
Here are some of the more useful content nuggets at zapier.com, they will get you started and expand on any existing knowledge.