For the first time in a (very) long time, Microsoft released a version of its Windows operating system (OS) that's not only a substantive improvement but a genuine treat to use. It's free for current Win7, Win8, and Win8.1 users and the actual upgrade process is perhaps the least problematic in Microsoft's entire history of Windows OS updates. Having said that, here are a few items you need to do before jumping into things.
Hardware Driver Compatibility Check
There's a big difference between making sure hardware and its respective Win10 drivers are ready for the upgrade. Drivers are the bits of code that allow those pieces of hardware to interface with the OS; in short, you may see that the pre-update check performed by Microsoft clears your computer's hardware, but that doesn't necessarily mean the drivers are ready.
Fortunately, avoiding any unpleasant surprises is a straightforward process:
Check your System Information to identify hardware that uses drivers; primary targets here are graphics cards, audio cards, webcams, and pretty much anything that connects via USB port. In some cases, Microsoft will actually provide drivers for you so there's little concern there, but some of primary culprits that rely on manufacturer provided drivers include graphics cards and printers.
Once you've identified your manufacturer(s), head to the respective provider's website and look for information about Win10 drivers. You can usually cut to the chase by doing a site search for "Win10 drivers."
If you purchased your computer(s) from a mainstream provider (Dell, HP, etc.) you can also go to their website, locate your device in the support section and see if there is information about Win10 updates and drivers for hardware they use in your machine. In many cases, these mainstream providers have special versions of drivers designed especially for your machine so it is a good idea to use these if available. Here are some links to popular manufacture support URLs

You can also drop by the official Microsoft See what works page to search for a wide variety of devices, apps, software, hardware, and peripherals (just don't make it your only option)
If you come up empty-handed, try contacting the computer and/or device manufacturer to inquire about driver status. Worst case scenario is they won't have a scheduled Win10 compatible update for several or more weeks but better to know this in advance than find out after the fact.
Think About What You Want To Include In The New Start Menu Before Upgrading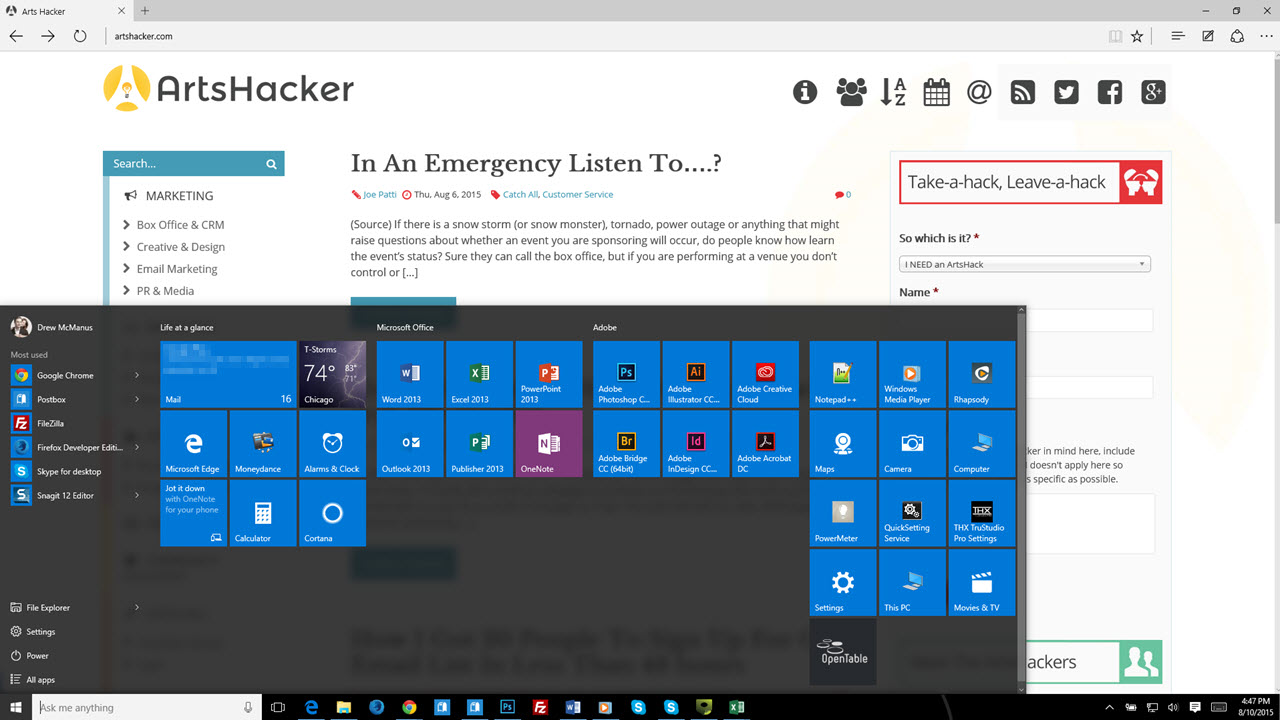 Once you get Win10 in place, you're going to lose whatever you had set up in your Win7, Win8, or Win 8.1 start menu (decidedly a good thing for the latter two) but don't let that shake you. You should either make a list of the programs you know you want to include in the new Win10 menu or take a screencap (tip: use your phone to take a picture of the screen).
Fortunately, setting up Win10's start menu is both straightforward and intuitive; for Win7 users, you're in for a real treat as it's going to feel very familiar but offer much more flexibility to customize the look and feel of material you want to display.
In addition to Microsoft's default help content, I recommend the follow two third party guides:
ComputerShopper.com: Windows 10: How to Use (and Tweak) the New Start Screen
PCMag.com: How to Customize the Windows 10 Start Menu
If you're a habitual tablet or smartphone user, you're going to appreciate how easy it is to create shortcuts to specific website URLs into the start menu. For arts administrators that access any one of a number of niche cloud based services, you'll have a very easy time setting those up and grouping them as desired.
Get Ready For The Awesome That Is Cortana
Granted, this isn't really necessary before upgrading to Win10 but if you need any additional encouragement to go through the process, then know that Cortana, Microsoft's virtual personal assistant, is a genuine game changer.
Apple's Siri was the first commercially accepted virtual assistant but Microsoft ups the ante by integrating Cortana into the OS is ways you simply haven't seen before. Cortana really shines when you use the voice activated commands but no worries, even if you don't have a microphone built into your PC, it is still integrated into traditional typed command interfaces.
To that end, Eric Ravenscraft published an excellent article at Lifehacker.com that covers all of the amazing things you ask (or type) Cortana to do. Personally, the reminder with alarm function has been a day-saver on a few occasions already. Being able to obtain word definitions or ask what time it is in Saskatoon (you laugh but they don't follow DST so the joke is on you) are all terribly useful perks.
Getting Windows 10
Although Win10 is a free upgrade, that doesn't mean Microsoft is pushing it out en masse. Instead, they took a thinking person's approach and decided to roll in out in waves so as to prevent server overload and customer frustrated (cough, cough…iOS upgrade bottlenecks…cough, cough).
And even though Microsoft has made it through most of the queue, you may be one of the final groups still waiting for a notice that it's your turn. But waiting is for chumps and Microsoft actually provides a way to force the upgrade download via a special tool they provide via a dedicated Win10 download page. I used this tool without a bit of trouble but if you are the least bit uncomfortable with manually engaging the process, you should probably wait your turn in the master queue.