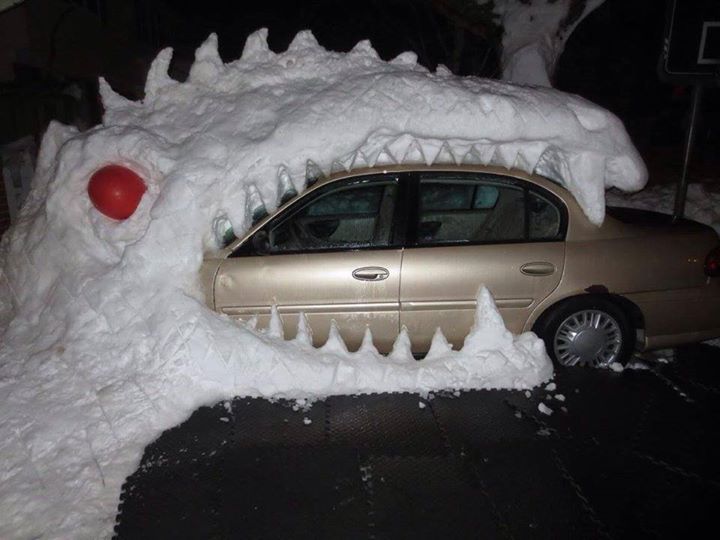 (Source)
If there is a snow storm (or snow monster), tornado, power outage or anything that might raise questions about whether an event you are sponsoring will occur, do people know how learn the event's status?
Sure they can call the box office, but if you are performing at a venue you don't control or if someone has been unable to change the message on the voicemail, how will people know where to get information?
Schools know that their students are always eager to have a snow day so they provide specific information on their websites where students should look or listen to learn about a closing. Most performing arts organizations don't have that information publically available.
It is a good idea for an organization to know what their chosen channels of communications are prior to an emergency and have it listed on their website somewhere intuitive like the FAQ page or ticket office page near the the refund policy section.
That way, if there is an emergency, you can go in and create a link from your home page to the list of communication channels along with any other pertinent information. If someone is unable to get in to create a link, then at least the information is already accessible to web visitors.
Whatever list you make should include the frequency and call letters for media outlets. So many people have cable and satellite radios, they may have no idea where to tune in. The fact that people are more disconnected with their local media channels is one of the prime reasons for ensuring you have the information listed in the first place.
You can also point to your social media and email presence and encourage people to sign up so that they are automatically in the loop when a decision is made about whether the event will occur or not.
Of course, it doesn't hurt that this puts them in the loop about any events you are sponsoring. Be sure not to abuse that relationship lest you lose the ability to communicate with them when it really matters.
If you do make a statement about an event through email, it might be wise to temporarily change the autoresponse message people get upon signing up for your email list. This will provide information to those who decide to sign up for notifications after you have sent the relevant email out.
Finally, everyone on staff should be aware of who is going to make the decisions and then who is responsible for disseminating that information via each communication channel.
Everyone should have a hard copy of the contact information, logins, etc in a safe place at home and other relevant places. In an emergency situation you don't want to be depending on people who are scrolling through their email accounts for the contact list or discovering they didn't transfer that part of their address book when they got their new phone.