I'm very happy to announce that on Friday, September 27, 2019 I'll be leading an Americans for Arts ArtsU webinar on using metrics to refine and enhance your website's user experience. Better still, the generous folks at Americans for the Arts were kind enough to provide a special discount code non-members can use to reduce the registration fee!
About The Webinar

Date: Friday, September 27, 2019
Time: 3:00PM ET

Creating happy user experiences (UX) depends on looking at your data. This webinar is designed to provide content managers across all skill levels the tools needed to use basic analytics to make content and layout decisions based on authentic user action rather than personal preference or best guesses.

We'll move from concept to implementation using several high priority website components such as navigation, default page layouts, typography, and hero images. Participants will also learn how to master the mystical skill of effective mobile testing to ensure UX is reaching peak performance across all device types.

Questions will be fielded throughout the course of the session.

Learning Objectives

Participants will:

Develop data driven UX refinement skills and define conversion goals.
Learn how to identify problems, apply context, then test solutions.

Cost

Americans for the Arts Members: FREE!
Non-Members: $35

Non-members can save $15 by using the special discount code VENTURE during registration.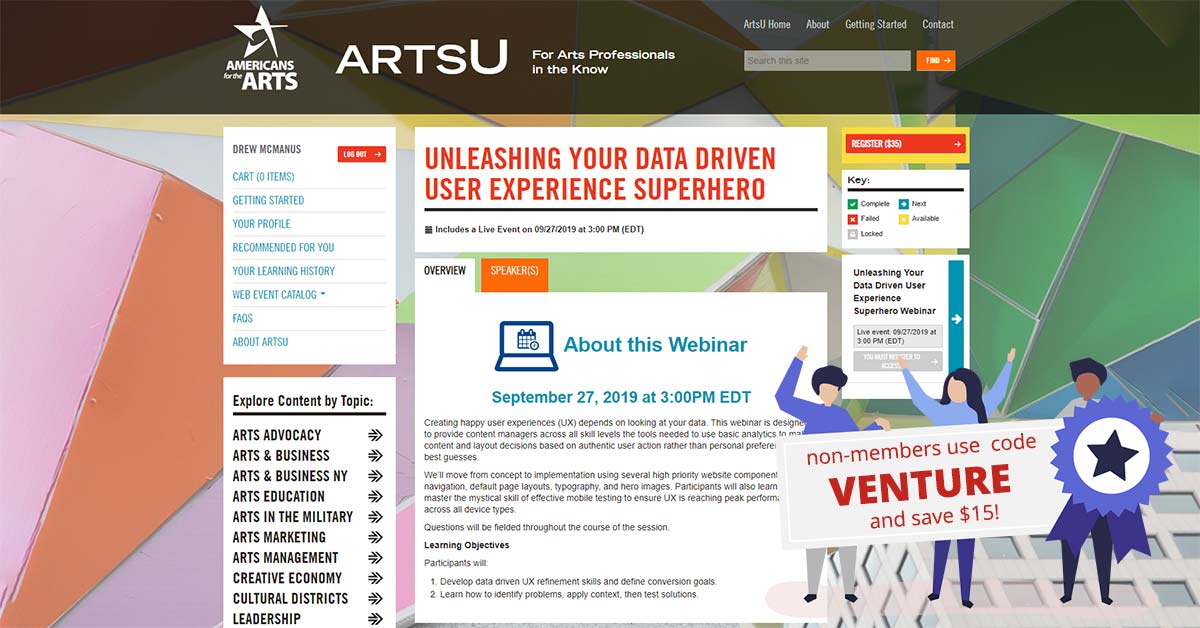 This is brand new webinar I've created especially for ArtsU, Americans for the Arts' forum for today's leading arts professionals sharing their knowledge, thoughts, and comments on the topics shaping the arts in our communities, schools and nation.
I'm excited to roll it out next month and hope to see as many of you there as possible.