Thanks to SXSW, streaming video has been popping up all over the interwebs lately. Not video from the event–though that's available too–but specifically a couple of apps designed for live, instant, streaming video promoted through your social media feeds. So let's take a look at Meerkat & Periscope and kick the tires.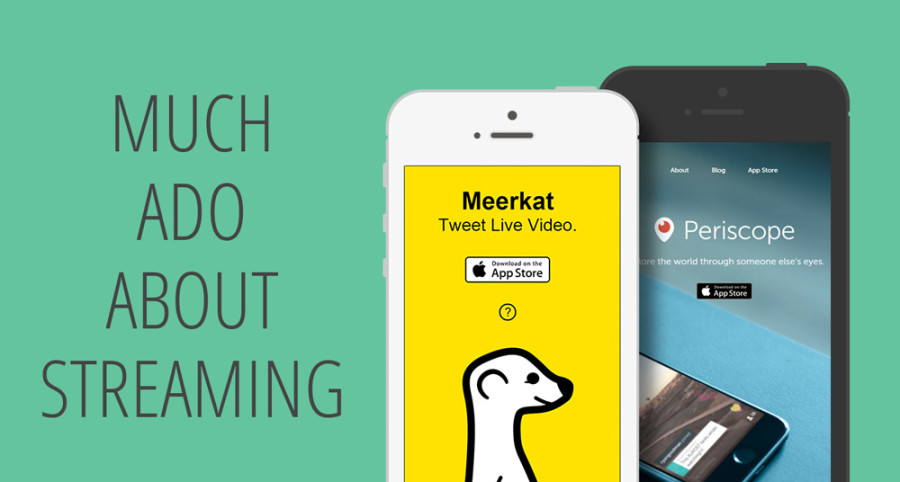 Meerkat is an independent app, Periscope was developed independently before being bought by Twitter. They both let you stream live video directly from your smartphone–currently only for iOS but coming soon for Android–and automatically announce to your social media that you've gone live.
What's so new about that?
Granted, we've been able to use Ustream, Livestream, and other apps for years to stream video directly from our phones, but these new apps are a little different (and a little not). Part of the concept is to integrate chatting more thoroughly–in Ustream & Livestream, you either had to watch with a second screen for tweeting and/or chatting or else you had to be watching on your computer with an inline video and a twitter-like chat open to the side. In these new apps, the chat is directly on the screen, on top of the video.
Another innovation is to emphasize "likes" for videos–you can tap a heart over & over to send hearts to whomever's streaming, and everyone can see them along with the chat, even join in if they wish. Meerkat even has a Leaderboard where you can see which users have gotten the most likes overall. (I'm not convinced that's a good thing, but it's there.)
But the main thing that sets these new apps apart from the earlier ones is the idea of ephemerality. Meerkat's videos can only be seen live, though you can archive your own videos to your phone if you want. Periscope's videos can be seen for up to 24 hours after the livestream before they vanish.
So what can we do with them?
There was some conversation at the #2amt hashtag the other week about whether or not this might be a way to livestream theatre productions. Howard Sherman also wrote a good piece about the ease of bootlegging productions this way. After all, just because you're streaming what you think is an ephemeral video doesn't mean I can't use a video capture app on my desktop to save it for later.
Now, I'm all for recording and streaming arts performances, but these really aren't the apps for that. The main problem here is simply distance. These are designed for one-on-one, close up recording, certainly when it comes to the audio. They're best for talking directly to an audience, chatting, interaction. (Dare I say "audience engagement" now? I dare, I dare.) Ustream and Livestream have an edge on broadcasting events because you don't have to rely on your phone's camera or microphone, you can use the real thing. (You can stream directly from your phone with them, but trust me, it's not all that.)
Another problem is bandwidth and stability. Having tested both Meerkat and Periscope over the last week with several professional tech writers, the streams were fine for short bursts, but after a couple of minutes, they would drop or stop entirely. Of the two, eriscope was the more robust, but still had issues. And these are in places with stable, fast wireless connections, often with few if any other users on the same network. A performance venue is going to have dozens if not hundred of people tapping into their network at any given performance (one would hope).
Just last week, I watched some Periscope-d broadcasts from the Ùll conference in Kilkenny, Ireland. These were mostly from a stationary position, a phone on a tripod set up in portrait mode. Audio was good, though it was placed near a speaker, since everyone was mic'd. Video was fine, though distant–no zooming, no panning, no variation. The longest show I watched was about 90 minutes long, but the signal dropped and reset more than a few times; each reset caught up in real time, so if you missed something, you missed it. Periscope does work in landscape mode, too. If you do try to use it for events like this, be aware that people might be watching via computer or even using AirPlay to send it to their AppleTV to watch on a bigger screen.
Yet another thing to be aware of–these apps share your location, that's part of the "fun." You might not want to broadcast from home, just in case. Broadcast from where you want people to find you, i.e. your arts venue.
He did say "audience engagement," didn't he?
Indeed. These could be very useful for engagement and marketing, whether ancillary to a show–say, scavenger hunt games tied to a production or impromptu chats with the players. You could design videos to help build the world around a show–such as actors in character outside the story on stage at random times in and around showtime, not unlike the experience of Alan Ayckbourne's "House" and "Garden" plays, which play simultaneously and weave in and out of one another.
On the documentary side, you could have creative staff doing video chats with patrons, video walkthroughs backstage during a show, show what it's like in the booth during a show, even chat with patrons at intermission and afterwards for instant reactions.
It's never been easier to reach audiences–now, you can reach them at home or wherever they are–your show is in their pocket, quite literally. And this is a little more dynamic than a brochure or postcard. (I hate to tell you, but I usually toss arts postcards and brochures after a single glance. And I'm in the business with an interest in marketing designs. We'll talk about that another time…)
To combat the "wait, I thought you had a video, but it's gone!" issue, Meerkat has just added a new feature: a customizable button that pops up at the end of your transmission and/or appears for those who click on your video's link too late. You can send them from there to your website, to a video on YouTube or Vimeo, to a podcast, to wherever you want them to go. That's one solution, but you'll want to avoid using it too often to send people to the same old links over and over.
Of course, David has another idea…
So you want to do something directly interacting with a performance, streaming in real time at the same time, but you don't want audiences distracted by screens, and you don't want to overload your wireless network. What's a show to do?
Try Mixlr.
(Don't be fooled, that's a lowercase L, not a capital I.)
This is an audio-only streaming app, so it requires less bandwidth. It's also easier to store recordings for later reference. And while it can be fun for profiles and interviews and podcasting and all that jazz, I have another idea.
What if you made a commentary track for your production? Patrons could come back, bring their earbuds, listen along with the show. You could make it available for listening later, too–hold on to that until after the show closes though, give them an incentive to come see it again with the commentary if they can't wait. Heck, do more than once–maybe one is from the director, another from the playwright, another from the actors, maybe a scholar if you're doing a classic work. Fringe benefit: these can become a resource for students & other companies after the production comes down.
Another option might be to have a live microphone backstage and in the booth, let audiences listen in on the behind-the-scenes in the moment. We're already letting audiences in to see the occasional tech rehearsal, why not let them hear how it all comes together for real? (Imagine that for a production of "Noises Off." How meta can you get?)
Best of all, why not follow up on the Ayckbourne idea above–have the world of the show extend offstage during the show, letting the audience hear what else is going on at the same time? Granted, you can't do that for every show, and you're going to need a playwright who wants to put in the extra work, but just imagine how fun that would be.
What have we learned?
Meerkat videos are live, instant, ephemeral–when they're done, they're gone.
Periscope videos are stored for about 24 hours after the live transmission.
Both need good wifi support on the transmission end.
Periscope shares location, so be careful where you record from.
Neither is really good for streaming performances, but excellent at one-on-one, up close interactions.
Mixir is an audio-only alternative that archives, uses less bandwidth, needs less attention.
And David enjoys making bulleted lists in WordPress.
So there you go. Three apps, several possibilities. Let's see what we can do with them.