If only they came and saw our art, they would be hooked for life.
This is one of those commonly voiced assumptions that is untrue. Some people need more than one interaction, often with diverse artistic expressions, before they become interested and invested in the arts. For some it doesn't ever happen.
Obviously, there are some that are hooked at first sight.
While the problem arts organizations face is often stated in terms of "how do we get them to come to our event," there are a couple programs that focus on taking the art literally to where people live.
The Dali Over My Bed
Perhaps one of the most insane sounding (at least to arts professionals) is Oberlin College's Art Rental program which, for the last 75 years, has allowed Oberlin students to take original works by Picasso, Lichtenstein, Warhol and other notable artists home with them for $5 per work, per semester.
Apparently, the program hasn't lost a single work or had any take major damage in all that time. According to the students, the works are stowed away safely whenever a party is being held.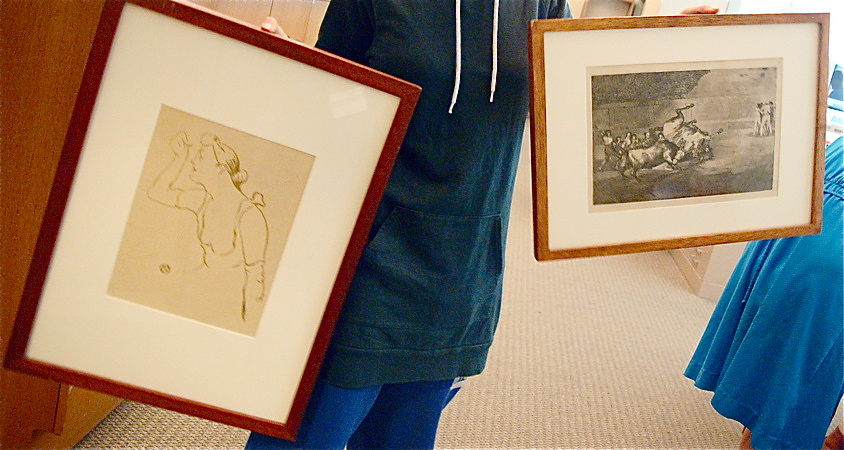 Art Straight From The Farm
The "straight from the farm" term is a little misleading, but taking a page from the community-supported agriculture (CSA) collective movement, arts collectives around the country are sending boxes of curated visual art home with people.
These arts collectives work much like the agricultural ones. People buy a subscription and receive a box or sack of works produced by local artists. In most places, one receives visual and craft works, but apparently there have been some works of literature included in some locales.
While the tuition and admission standards at Oberlin may make the students more apt to appreciate the works they are receiving than the general population, and while subscribers to the community-supported arts collectives are self-selected as enjoying art, neither group are comprised of the highly initiated. Both programs are producing entirely new educational (and delightful) experiences for participants.  There is a good deal of appreciation for art and the effort of artists being engendered.
Yeah But I Am A Performing Arts Organization, This Doesn't Work For Me
Sure it can. Allow people to take home a dress form with a costume from that period play/opera you did last year. Yes, there is a little risk involved so you set some conditions up from the outset and be a little selective. But don't limit it to your biggest donor whose mansion has a housekeeping staff.
Rewire old lighting instruments with an Edison plug, package it with some patterns, gels and cautions about how hot it can get and let people take that home a little while to play with.
Let people borrow set models and color renderings.
Let them take set pieces and props home.
If the performers are willing, lend them out for an evening too. Feed the performer and you get a monologue by the pool, a violin solo on the patio, dance lessons in your basement.
Encourage people to take pictures and videos with whatever (or whomever) you lent them and post it on the internet.
Note that both the Oberlin and CSA programs had nominal fees involved so I am not suggesting these programs be completely free. Administering them will not be easy. Performing artists often desire more than just a meal when they provide an in-home performance.
On the other hand, a wide degree of access is also key feature so these opportunities shouldn't be restricted to those who donated $1000+ either.