With Hurricane Irma heading toward Florida, I wanted to offer up a quick checklist of website related items arts orgs can use to help anticipate and mitigate any potential outages.
Place a notice on your website indicating any hours the office will be closed during the storm.

Don't forget to remove any notice after the storm is passed and you're back to regular operating hours.

Contact your web provider (or hosting provider if you manage that directly) to verify if the data center where your website lives is in an area that might be impacted by the hurricane.

If your online ticketing is handled by a mutually exclusive provider, you'll want to contact them with the same datacenter location question
Don't overlook contacting your domain registrar; this provider controls connecting your domain name to the server where your website lives. This connection appears seamless and in some cases, it is handled by the same provider. But if the registrar's datacenter becomes inoperative due to the storm, visitors will not be able to connect to your website, even if the server is humming along in Oklahoma.
Contact your email provider with the same questions. If you use something like Google for nonprofits, you're almost certainly fine but if you use something like a dedicated Microsoft Exchange server, you will definitely want to confirm with that provider.
If any of the datacenters are in locations that might be impacted by the storm, you may want to ask the provider if they can migrate the site to a datacenter in a different location. Granted, that will almost certainly require some extra work on your end and some potential downtime during the migration, but if there is real concern about an extended outage, it could be an "ounce of prevention" type of benefit.

Verify all key employees have a secondary email address to use if your primary email provider goes down due to the storm.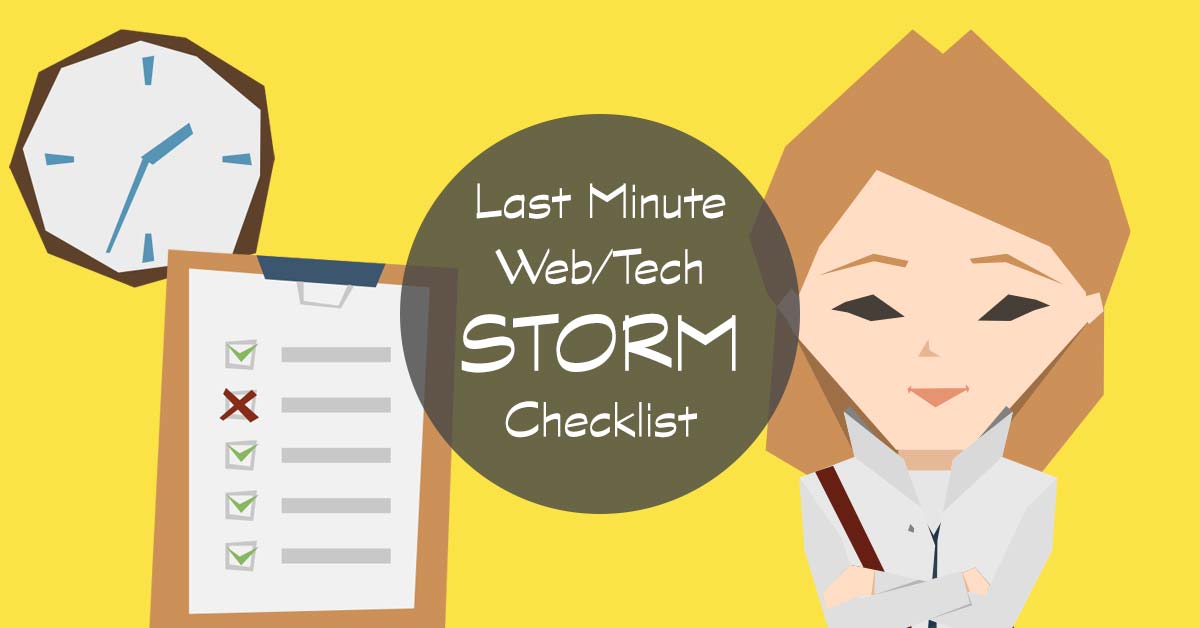 If any of these points of contact (web, ticketing, domain registration, and email) are projected to be out of service for several days or longer…
Consider temporarily pointing your domain name to your Facebook or Twitter page.

Fortunately, this is easily accomplished from a technical perspective. Most domain registrar providers offer a way to redirect the domain name to any URL and you can point it back to the website server once it is up and running again.
Note: if you do need to consider this option, implementing it sooner than later is strongly recommended as it can take anywhere from one to 12 hours for a forward to roll out.
A variation on this theme is if your website is out, you can forward the primary domain to your ticketing provider's site. You'll just want to make sure they can include a notice about the primary site being temporarily out of service.

Ask your email provider if they can temporary forward incoming messages to an employee's secondary email accounts.

Ideally, whoever is responsible for IT in your office will compile a list of those secondary addresses so one person can oversee the changes.
To everyone in the path of Irma and those recovering from Harvey, don't be shy about asking for assistance and stay safe!