Over the past several months, I've reviewed probably more than 70 resumes for various positions that the CSO was hiring for. I am one of those managers that will almost immediately dismiss a poorly written or designed resume, regardless of their experience, especially for a job that requires attention to detail and organizational skills. If you can't be bothered to make a good-looking, correctly spelled resume, then why would I expect you do to the same for my organization?
Not that you, dear reader, would ever want to leave your arts job. But in case you're looking at new arts opportunities, basic resume guidance can be useful.
Inc.com posted this great article about 31 Incredibly Unprofessional Things People Do on their Resumes, written by Michael Brulotte of Quora. I agree with each and every one, and have a few additional thoughts:
Choosing a boring font: I would prefer a Times New Roman or Calibri any day to what someone might think of as a snazzier font. This article has a link to another article that talks about the best and worst fonts to use (Comic Sans, anyone?) to use. As a sidenote, also pay attention to the font size you're using. I received a resume that used a 7.5 font size, obviously in an attempt to keep her resume to one page. I'd rather have a two-page resume with a larger font that is easy to read without getting out the bifocals.
Cramming text to fit everything: I just want to reiterate here that having some white space is much preferred than trying to cram everything onto one page. Again, a two page resume is fine, so instead of trying to put all of that heavy text onto one page, spread it out, especially with appropriate headers.
Including personal details: Including your education is important to many managers. But what may not be as important is including the year(s) of graduation or attendance. These dates can allow the manager to make assumptions about your age. I had an applicant send an inquiring email, after I responded that she was not included in the list of finalists, asking if it was because of her age that we weren't considering her. To be honest, I had no idea this woman was in her 60s, but when I went back and looked at her resume, she had listed that she received her degree in 1980. She had also listed her work as a nurse from 1980-1988. If you are concerned about managers potentially discriminating against you due to your age (too old or too young), don't list that graduation date, and don't include an unrelated job from the 1980s (also addressed in Going way back.)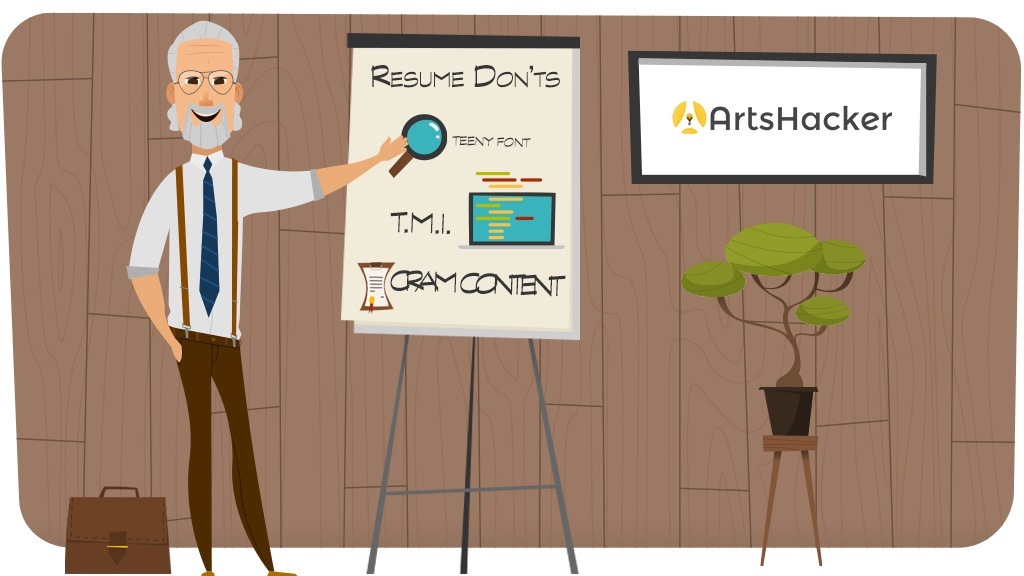 I'd add a few of my own as well.
Using a ton of color or black background: A few touches of color is nice. I still print out resumes that I want to take a closer look at and make notes on. If you have too much color or worse, a black background, I might think twice about printing it for fear of using up a ton of ink. You just might not make it to the "Consider" pile.
Don't send more than what is asked for or isn't relevant to the position: He addresses this in some of his points, such as including references when they're not asked for. I had an applicant send a resume for an administrative position, and she listed all of her orchestral performances as a musician. While I appreciate that she has experience in the orchestra world, playing an instrument and working in an administrative position are two totally different skill sets.
It's always a good idea to keep your resume updated anyway. Take a few minutes to pull it up on your computer and review it with these guidelines in mind.