If you have been in a meeting about the financial status of your organization and are confused about the differences between balance sheet, cash flow statement and income statement when they are mentioned,  you aren't alone.  Even if you have taken an accounting class, you may have a little trouble reconciling what you learned with the non-profit approach to finance.
A few years back, the Non-Profit Finance Fund conducted a webinar for the Theatre Communications Group in order to explain the different elements of non-profit financial statements.
The audio of webinar isn't available, but the powerpoint presentation is. It does an excellent job of discussing the different elements and approaches to non-profit accounting. Perhaps most importantly, it illustrates how each of the reports are related to each other.
In the image below, Statement of Financial Position is another name for Balance Sheet and Statement of Activities is Income Statement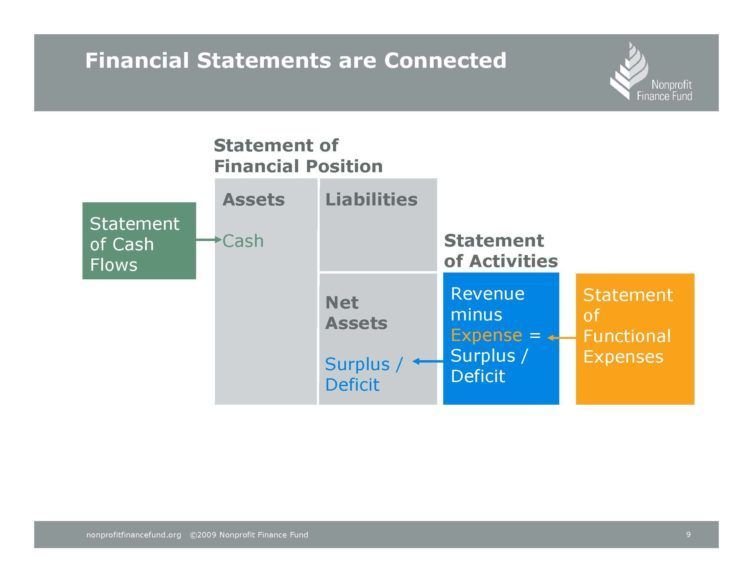 Then it breaks these concepts into smaller parts in later images to clarify how the surplus/deficit in the Income Statement becomes Net Assets in the Balance Sheet. The document also goes into detail about what each of these statements reveals about the organization and has examples of what each of these statements might look like in practice.
One of my favorite images is the one that illustrates how revenue, contributions, and restricted contributions all flow into assets, but how some of your assets can be tied up in receivables, reserves, and property, physical plant and equipment, and thus not be available for use toward expenses.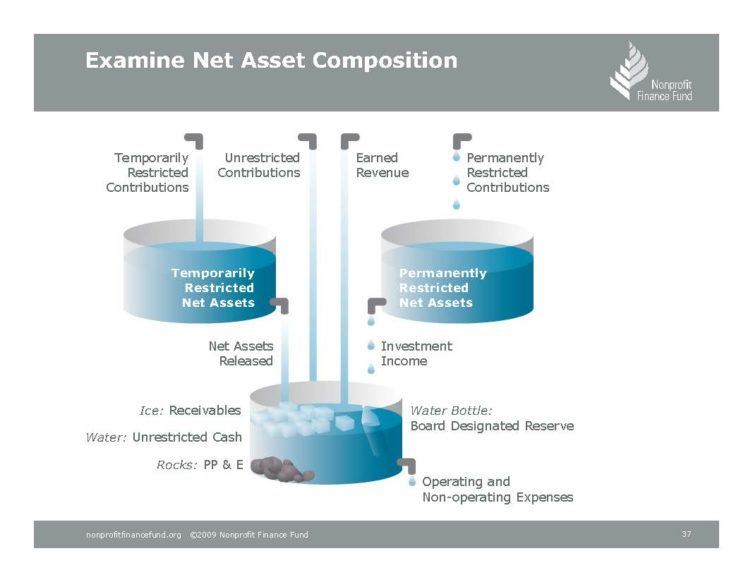 The slides from the presentation are effective in covering the different things to evaluate and questions to ask if you are trying to discover the health of your finances. These include whether you are correctly tracking the full cost of your programs determining the liquidity of your organization,…
…and perhaps the one of the most important considerations before deciding to take on debt:
If your balance sheet has…
No cash or receivables
A fully drawn line of credit
Little or no reserves available to management
Fixed assets with significant wear-and-tear
…then there are no dollars immediately available to draw on in challenging times
Borrowing to replace lost income is rarely appropriate
One of the stated goals at the beginning of the slides was to "Improve ability to: Articulate financial information to your staff, constituents, board and potential funders." However, I think the distributing the slideshow itself to staff and board members can help them gain a deeper understanding of the financial statements and the implications of decisions.
When I was starting out in my career I thought I would never be able to be the executive director because the finances of the organization and how they were derived seemed to be entirely beyond me. If staff and board members understand these reports, they not only become more effective in their jobs, their confidence in their own potential increases.