For most of us (nonprofits included), the thought of creating and editing a video, especially an animated video, is a daunting task that requires a ton of time and money. However, videos are a great tool to have in the promotional toolbox for fundraising, program advertising, and stakeholder engagement. They are fun, simple, and entertaining, resulting in a richer understanding of your program's impact.
Now that video generating tools are becoming more widespread, there are platforms, such as Vyond, that any nonprofit, no matter the size or budget, can utilize in order to create that perfect video for their social media content or for an introduction to a new program. As a company working with nonprofits, MilkCrate has found Vyond to be an easy way for us to make videos for our nonprofit clients about their programs and the apps we build for them. At MilkCrate, we use Vyond because it allows us to drag and drop animated images into a coherent and attractive narrative.
This video making platform allows people from all skill levels and job roles to create dynamic, compelling visualizations that engage audiences and moves others to action. Videos provide nonprofits a way to boost awareness around programs, services, or issues it covers, which in turn increases collective action.
3 Steps to Launching your First Video on Vyond
Step 1: Brainstorm
The great thing about Vyond is that the creator has total control of the video, but Vyond also helps with the development of ideas because the platform has templates that you can use for the next scene, which makes it easier to figure out where to go next. However, it is still a good idea to brainstorm and have a general vision of the video, as there are a million different directions your video could go. Think about what information you want to include, and brainstorm any ideas or storylines you have for the video. Knowing what you want to include will make it easier creating the video.
Step 2: Pick a Style
With Vyond there are three styles that you are able to choose from: Contemporary, Business Friendly, and Whiteboard Animation. Each style has a recommended use, so pick a style based on the intention of the video. Ask yourself if you want the video to be more of a promotional video, an announcement video, a training video, a tutorial, a demo, or an explainer video.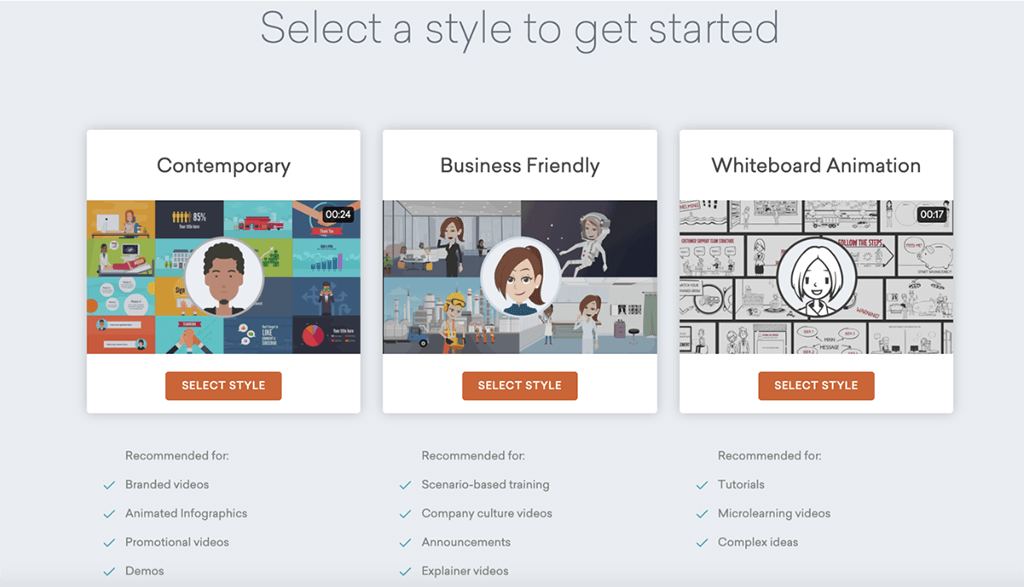 Step 3: Start Creating
Play around with the different features that Vyond offers such as props, charts, music, text, and characters. Adding in these tools allows you to customize your video, making it unique and fun.
The more creative you are with the video, the more interested your audience will be, but keep in mind that creating a quality video takes time no matter if you're creating it from scratch or using a platform like Vyond, so don't rush the process. Just keep playing around with the tools that Vyond provides, and have fun!
Follow our video for inspiration!
When we created our video, we already had a character, Jamie Crate, in mind. We brainstormed how we could use this character in our video, and we decided to base the video around him as a NPO Program Manager archetype. We created a narrative and a storyline about how we help clients like him.
For MilkCrate's video, we decided to use the 'Business Friendly' template. This template allowed us to create the narration and storyline we wanted along with our explanation of what our company is about and how we can help our potential clients.
Using a template was helpful because we had the basics down such as a background and characters, but we also had the ability to add our own logos and images to personalize it and to make the video fit MilkCrate's narrative and brand.
Whether you are creating a video to share an organization milestone on social media, drive audience engagement in an app, or elevate attendee experiences at events, a high-quality low-cost video is worth the effort for non-profit organizations.
Take a look at some of our other videos for more ideas and inspiration.