It's not you, Adobe. It's me.
You see, I am a long time Adobe software user. I started using the institutional licenses in school at the University of Missouri, and Adobe Creative Suite 3 was one of the first pieces of "pro" software I ever purchased. After CS6, when Adobe moved to the Creative Cloud subscription plans, I was torn. On one hand, it was going to be expensive. On the other hand, I used this software an awful lot, and I always got excited about new features when they became available.
Despite what I perceive as a general antipathy among users for subscription software, I actually see paid subscriptions as a feature. A subscription is a way for me to compensate a developer for ongoing work to maintain software as underlying platforms change. It supports new features, and it allows software publishers like Adobe to include features that carry an ongoing cost, such as cloud storage, settings sync across multiple machines, and ongoing media licensing for fonts and photos. These are fantastic features that aren't practical to offer users who only pay once and expect to use the software for many years. Additionally, the single-price Creative Cloud subscription allows me to get access to applications I would never have purchased and don't regularly need, like Adobe's After Effects or Animate CC. In general, I am a fan of Creative Cloud. I was an early adopter and have had personal and institutional licenses on-and-off since it first launched in 2011.
Like I said though, things have changed. My day-to-day responsibilities have shifted over the last couple of years, and I'm not getting the value out of the Adobe applications that I used to. It's not that the Creative Cloud apps have gotten worse. To the contrary, they're better than they've ever been: more powerful and easier to use for beginners and design dilettantes like me. And recently, I've started a journey to find alternatives to each of the Adobe applications I use on a regular basis. If, like me, you feel you might not be getting the full value out of your Adobe subscriptions, you might be pleasantly surprised to discover some of the tools that may serve your needs just as well, for a fee that is a little easier to justify.
(Caveat: I have been a Mac-only user since around 2014. Some of the tools I mention here will be cross-platform, but some are Mac only. I'll point out which is which.)
Affinity Designer for Adobe Illustrator
Affinity Designer is the first of a few apps that I'll mention from Serif Labs. For my day-to-day uses of putting together graphics for the web and simple posters, vector graphics are probably the most common thing I deal with. I love working with vectors for their flexibility and simplicity. For that reason, Illustrator was probably the hardest Adobe app for me to give up. However, Designer makes it easy to forget my old flame.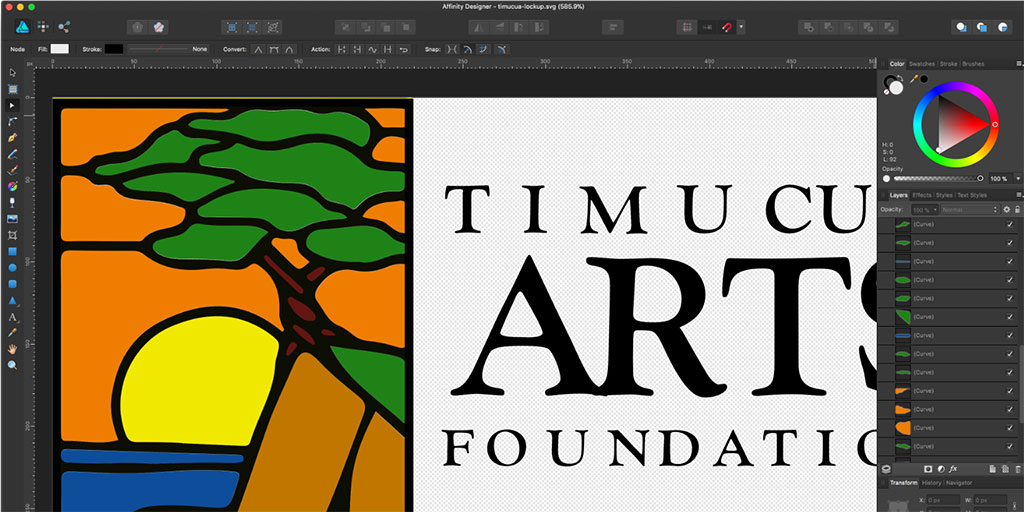 It's clear that Designer is built on a more modern and flexible codebase: it's snappier on less powerful machines and sacrifices very little in functionality. One of my favorite things in Designer is how much more elegantly it deals with imported raster graphics, such as the occasional headshot photo or background texture. If you've ever done a complicated vector mask of a photo in Illustrator, you know how painful this can be.
Another great thing about Designer is that while it is newer and has a smaller user base than Illustrator, there are still many vocal proponents online. Anytime I'm looking for a new software power tool, one of the main things I use in my evaluation is the availability of resources for when I inevitably get stuck. The Affinity forums are regularly visited by the developers, along with helpful users, in a way that the Adobe forums rarely are. Affinity/Serif have a well-maintained and often-updated collection of YouTube training videos for all their software.
If you ever found Illustrator intimidating, I think you'll enjoy Designer. It has a set of tools that is very comparable to Illustrator; but, I think it organizes them much more neatly and logically. Even basic little things like the color picker and alignment tools are clever, thoughtful, and modern. There are a few tools that I don't have from Illustrator, like the Symbol Sprayer and the data visualization tools, that I occasionally miss; but they're the sort of things that I used only rarely and never for anything that couldn't be done another way.
If you're working with an outside designer, do whatever you need to do in your contract to get them to give you both vector and raster (jpeg/png) versions of the work they do. Just remember that with great power comes great responsibility.
Oh, and I forgot to mention my other favorite thing about Designer: It's $50. One time. And it goes on sale a couple of times a year for only $40. It's available from the Mac App Store and on Windows (direct from the publisher).
Affinity Photo for Adobe Photoshop
Despite my love of vectors, sometimes I just need to work directly with the pixels. If you haven't stared into the abyss of the Photoshop tool panel in the last few years, you really ought to. Adobe has done a great job of making Photoshop's "smart" tools smarter and more automatic. And the sophistication of the smart selection and erasing tools in Photoshop had me worried that I wouldn't be able to find a comparable competitor. I'll never doubt Serif Labs and the Affinity team again.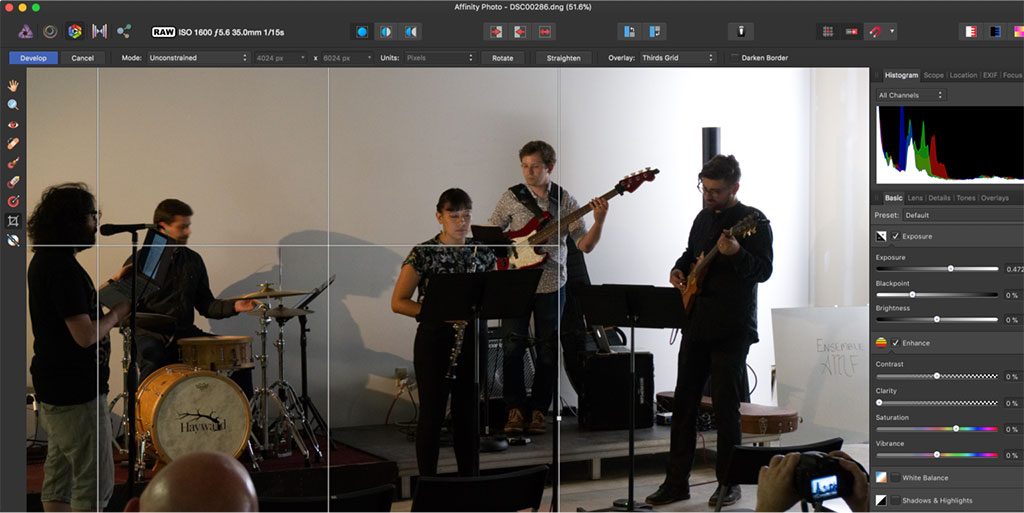 Affinity Photo is exactly what tools like this should be. It strikes an excellent balance between power and accessibility. I was personally never the power user of Photoshop that I was on Illustrator; but, I can do anything I ever needed to do in Photoshop faster and with the same result in Affinity Photo.
Another great thing about Affinity Photo: the iPad app. Adobe has been all over the place with their mobile strategy, making three or four different iOS apps that are all "Photoshop", and all are varying degrees of disappointing and frustrating. Affinity Photo's iOS app is nearly as feature-rich as its desktop counterpart, and more fun to use. Round-tripping your files to do some editing on both platforms is very easy as well.
Just like for Designer, Affinity has a large collection of training videos on YouTube for both desktop and mobile versions of Affinity Photo. And speaking of Designer, the two place just as nicely together as Illustrator and Photoshop.
Again, the price for the power is astonishing. (Seriously, sometimes my only worry about these guys is how they keep the company afloat selling stuff so cheap!) Affinity Photo is available for Mac (from the App Store) and Windows (direct) for $50. If you have an iPad, especially if you have an iPad Pro and Apple Pencil, you should really consider Affinity Photo for iOS for a mere $20. Yes. That's a lot compared to the App Store average. It's also a steal for what you get.
Affinity has hinted that an iOS version of Designer is on the roadmap, and that's a thing I can't wait to see.
Affinity Photo isn't the only option for a Photoshop replacement, though. It's the one that suits me the best because I like the iPad version and the connection to Designer. However, it would be wrong not to point out that there are some other strong options here. In particular, I want to point out Pixelmator and Pixelmator Pro. These are both Mac only, and they are a little further down the sliding scale toward usability over power. That's not a bad thing, though. And if you can get your work done in Pixelmator, you'll save yourself some money. It's only $30 in the App Store ($60 for Pro), and also has a powerful iOS version for just $5. The controls in the non-Pro version of Pixelmator aren't quite as sophisticated as what you'll see in Affinity Photo, but there are some very smart color and masking tools that will usually get the job done quickly, easily, and cheaply. It also does a pretty good job handling basic vector functions, too.
One unfortunate missing piece among these options is the lack of a digital asset manager (DAM). Adobe does this in Lightroom, and while there are other DAMs (Apple's own Photos app, for example), I've yet to find something that is as flexible. Photos works if you are handling personal photos, but gets strange quickly if you want to keep professional assets separate. Affinity Photo has some very nice "developing" tools for RAW files from a camera, similar to those in Lightroom; but, it has nothing like Lightroom's database for organizing your work.
Replacing InDesign
This one is a bit trickier for me. First, I don't really use InDesign. I know I should. But my needs as a composer never quite get to that level of complexity. My long documents never get visually complex enough to graduate from a word processor to a page layout tool; and my complex documents never get long enough to graduate from a vector editor.
If you are an InDesign user, your options are much less plentiful than they were a few years ago. The layout tools in Word and Pages got good enough to crowd out a lot of the middle ground in the category. On Windows, there is Microsoft Publisher, though I don't know how much longer Publisher has left (I think it's the only large app in the Office suite that isn't cross-platform.) On Mac, the options are more limited. I've played around with Swift Publisher (which, speaking of subscriptions, I have as part of the Setapp a Netflix-like subscription for Mac apps), but I haven't spent enough time with it for a serious review here. Affinity has teased their own layout tool, called Affinity Publisher, which will come out in a beta preview this summer for a launch late 2018 or 2019.
Replacing Premiere Pro and Audition
Surprisingly as a composer, multimedia is the area I've spent the least time exploring directly. I find that I am more adaptable to these kinds of tools than those that are a little further from my bailiwick. Particularly with video, I'm not using nearly as many of the fancy features of video editors as others might. As a Mac user, it's pretty easy to meet my video editing needs. Final Cut Pro X is more than capable of handling my needs for syncing audio and video, handling multi-camera recordings, inserting graphics and tasteful star wipes (just kidding), and exporting to every format imaginable. It's $300; but, there aren't nearly as many options here as there are for image editors. I could use iMovie, but I find the UI to be completely inscrutable. And if you're using multiple sources of audio and video (which is often the case for recordings of concerts and live events), iMovie does not have the tools you need.
Audio editing is another thing altogether. Here, as an Applenerd, I'm obliged to tell you how great Logic Pro X is. It is great. I do like and use it. Here's the thing: unless you're doing a lot of creative music stuff, you probably don't need it. Certainly, you can spend your $200 more responsibly. For creating music from synths and samples, I haven't found much that I enjoy using as much as Logic. However, for recording voiceover and podcasts, I really miss the effects and noise filtering built in to Adobe Audition. I can get to the same place in Logic, but it's not as easy or fast as in Audition. I can learn to live with it for all the other benefits.
If you want very cheap audio editing, the free and open-source Audacity will probably suit your needs. Yes, it's ugly as sin. Yes, it's a little finicky to use. But it's hard to beat free, and you can get a lot of good stuff done here.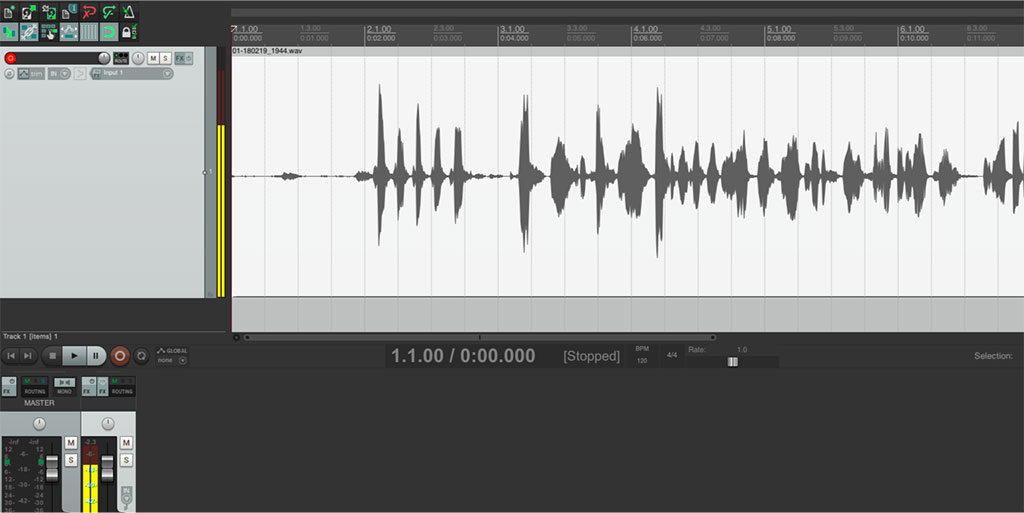 Now for the Goldilocks tool: Reaper. More and more professional musicians are looking to Reaper, which has a very generous free trial window and is only $60 to buy. For this price, the support options are not quite as plentiful as with some of the Affinity apps I mentioned above; but, the community support is where Reaper really shines. There are many community-published tutorials and community-built plugins and other tools to work with. Reaper does not have the polish of Logic or Avid's ProTools; but you can get your work done here and save a ton of money on subscriptions.
Side note: If you for some reason are eligible for educational rates on software, Apple has a really good deal: the $200 Apple Pro Apps for Education Bundle, which comes with Logic, Final Cut, Motion (motion graphics), Mainstage (live audio), and Compressor (video rendering). For the price of Logic alone, you can get all the pro apps Apple still deigns to publish.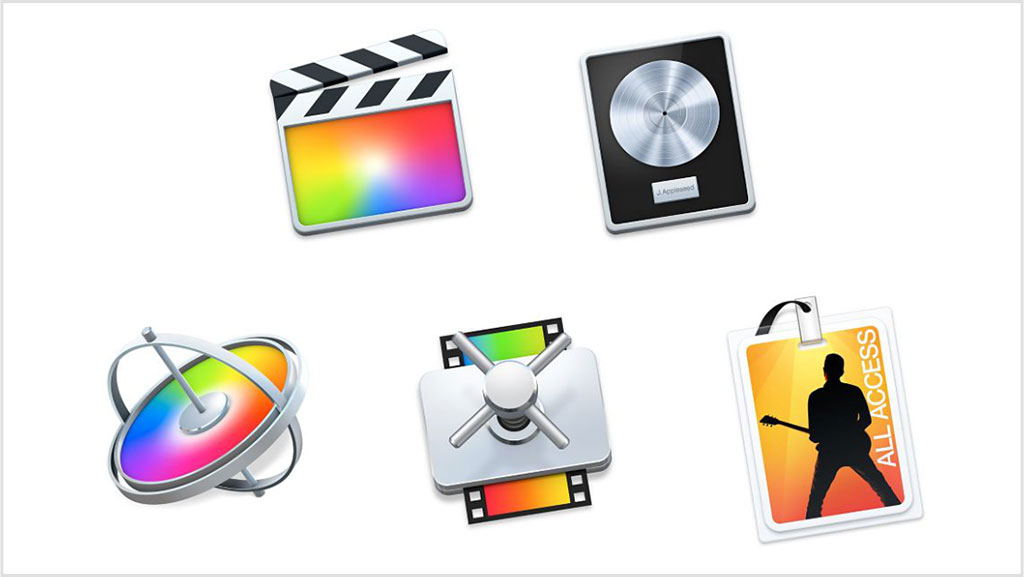 Replacing Adobe Acrobat
Acrobat is hard to replace. Adobe didn't invent digital graphics, video, or audio. But, it did create the PDF format, and because of that, Acrobat is probably the only tool that I might not be able to completely give up on.
I use a lot of PDFs. Every score I send and receive is a PDF. I combine PDFs into other, bigger PDFs. I split big PDFs into smaller ones. I crop and perform optical character recognition (making the text searchable) on them. I add annotations and bookmarks, change page numbers and labels. I even destroy perfectly good paper books so I can run them through a scanner to turn them into PDFs. I'm a mad and broken human.
Having said all of that, nearly everything I need to do with PDFs can be done in a free app that comes on every single Mac: Preview. From here, I can split and combine pages, add a visual signature, markup copy, and more.
If I need to do more than this, my first step up is PDF Expert from Readdle (Mac and iOS $10 only). This gives me some more controls over layouts and notably added page numbering in a recent update. The one major missing feature here is OCR, which I still use Acrobat for. The only other software tool I've used for OCR is PDF Pen from Smile Software, and it's just not as accurate as Adobe's OCR and has yielded files that are much larger with less useful information in them.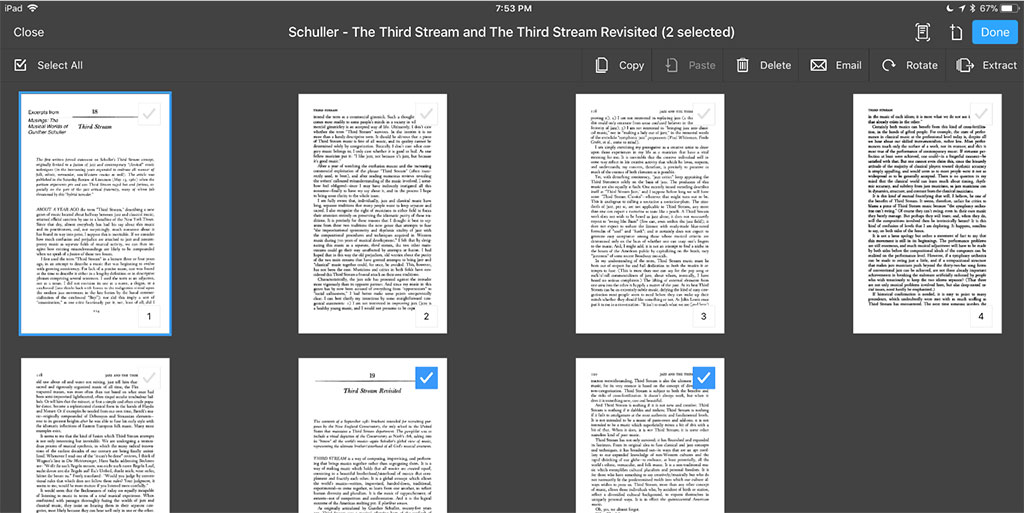 I love Readdle's iOS productivity apps. (I couldn't go a week without Scanner Pro on my phone.) I hope they find a good OCR implementation soon.
Replacing Adobe TypeKit
I love a nice typeface. And TypeKit is hard to give up. There are places to get fonts for free or cheap online; but, as the great Christopher Hitchens observed, "Cheap booze is a false economy." Put more plainly: You get what you pay for. You can find some very nice free typefaces online if you look. One place that I often check is Google Fonts. However, finding a good free font takes time, and sometimes you still end up with nothing. Browsing TypeKit is still one of the great joys of Creative Cloud subscription.
TypeKit was groundbreaking when it was first announced (pre-Adobe purchasing it), and it has spawned a handful of companies trying similar models. One of the best is the Monotype Library Subscription from Fonts.com. While the fonts are (mostly) not the same as those available from TypeKit, they are of comparable quality and the catalog is of a similar depth. Monotype's subscriptions start at only $10/mo, so it's a savings on TypeKit as well. As a bonus, the app that runs the subscription license, SkyFonts, does a very good job of syncing your fonts across multiple machines, and it includes free Google Fonts sync as well.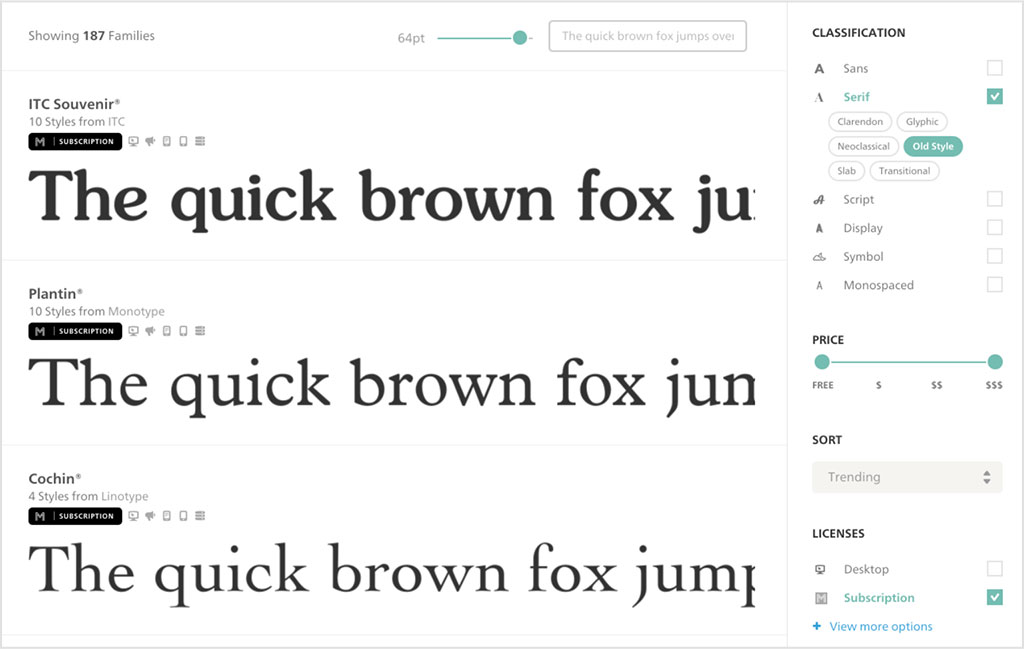 Having said all that, you might consider how badly you really need a font subscription. If you have a Mac, you'll have a lot of really lovely fonts preinstalled (a side benefit to buying hardware from a company populated by picky typography nerds). And of course, if you really need just that one, glorious typeface, you can drop a couple dollars on it and use it everywhere, which also just happens to be good branding design. Let's just all agree to stop using Times and Arial, ok?
Conclusion
This is an ongoing journey for me. Breaking up with Adobe is hard, and will continue to be hard for a long time to come. It's a relationship I've been in nearly as long as I've owned computers. Again, I still think Adobe apps are great. I think Creative Cloud is a wonderful value for people who use it regularly, and for a long time, I was one of those people. As my needs and work have changed, I have found that the cost is too much for the value in my practice. If you're in a similar place, you might consider trying one of the apps I mentioned above. Especially if you're only doing graphic work, I think you'll be very pleased with the available alternatives and save yourself a lot of money in the long run.
As the great American philosopher Neil Sedaka once observed, "breaking up is hard to do."