I have always believed in this phrase. This doesn't mean I don't strive to deliver the best customer service I can to each and every patron, but sometimes a patron becomes so toxic or argumentative, that breaking up with them is the best thing to do for your organization, and for the employees or volunteers who man the box office. I found this great article on Huffington Post that explains why the customer isn't always right. Here's a quick overview of the author's top 5 reasons.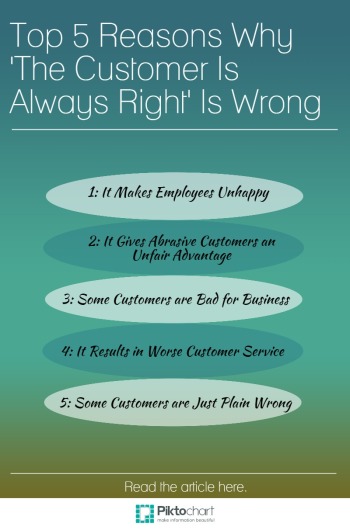 After reading this article, and watching the video, I really liked how he singled out customers who are 'unreasonable'. This made me think back to examples of patrons that we have been happy to part ways with, due to unreasonable behavior or demands, abuse of box office personnel and policies, and how we 'broke up' with them in each instance:
A patron was unhappy with our holiday production and wrote a scathing email with suggestions that we were un-American, sacrilegious, and didn't put enough Jesus in our production. He compared us to the 'heathens in New York City.' A quick look at this patron's ticket/donor history showed very little activity. This patron's letter was deemed unnecessary to respond to (how would you?) so we just ignored it. Haven't heard from him again.
A patron, whom our box office incorrectly sold a seat to that didn't exist (yep, our bad), approached our house manager that her seat wasn't there, and the house manager was going to grab a house seat for her. But instead of waiting, she stormed through the box office door (which should not have public access) at the theatre night of concert with several patrons standing in line to purchase tickets beyond the ticket window. She screamed at our box office manager as she was in the middle of another ticket transaction and our box office manager had to tell the woman to leave the box office and get in line and she'd be happy to help. After getting a new (upgraded) seat for the concert (and after more yelling), she called on Monday wanting a refund. Our box office manager offered to upgrade her subscription for the season because of our mistake, but after several more minutes of being yelled at, our box office manager simply refunded her subscription and wished her a good day.
When I first arrived at the Chattanooga Symphony & Opera, I noticed that we gave away a significant amount of comp tickets. One of my goals was to limit comps and reduce their usage. A local media representative came in one day to get her boss' 'free' tickets for the upcoming holiday concert. When I heard this come from the box office, I asked her to step into my office to discuss. I asked her why her boss was asking for free tickets and was informed it was because he always received free tickets. After more discussion to find out why, she tried to tell me that her media company provided us with promotion of our concert (um, isn't that what media companies do – talk about local events, especially one that I'm paying advertising dollars for?) I asked her if we were getting extra promotion that had a value to it – if someone else came in and wanted the same promotion, how much would they have to pay? I pretty much got her so flustered by not giving her the comp tickets that she said her boss would just pay for them and left. I don't mind losing a patron who always insists on free tickets. He's providing no value to our organization.